Posted by Dr. Rick Cohen on Aug 14th 2019
In my last post I shared how FUNDAMINOS™ essential amino acids by being four times more effective than dietary protein powerfully supports recovery, repair and energy. Not only is the science clear, but after eight years and thousands of users the benefits are as well.
This time please read on to learn the story of how our new 7th generation FUNDAMINOS™ upgrade was created (includes an icy trip to Chicago) or order now by using the coupon GOTFUNDAMINOS20 for 20% off and see for yourself. .
In the beginning, because of the taste, even as effective as it was FUNDAMINOS™ was not for everyone. And while after six reformulations over 10 years the taste of FUNDAMINOS™ has improved singificantly, it just wasn't ready for prime time.
This was the case because unflavored amino acids are very bitter. And while you can take amino acid tablets, it's even worse to try and take 10 to 20 large tablets a day to get the benefits!
Therefore, over the years I always kept my eye out for a manufacturer and flavor house who could provide us with the "secret sauce" for FUNDAMINOS™. However, even with improvements in flavor systens, no manufacturer could deliver. So my son and I took it upon ourselves to find a solution.
The Amino Acid Flavor Challenge


In order to get the flavor correct, we needed to block the amino acid bitterness while at the same time providing a natural flavor that was not too sweet or sour. Since purity is a must, we were also constrained to using only natural and organic ingredients.
Finally, after six months of literally daily testing we finally discovered a combination of tart fruit powders, natural bitter blockers, and a blend of stevia and monk fruit sweeteners which tasted great!
Unfortunately, when providing our homebrew formula in 2017 to our new contract manufacturer, they produced a solid blend but could not replicate our home version. And since inventory was running low, we had to accept the less than ideal sample specs for the next production run.
I still held my hopes high that someone else could create a great tasting amino acid blend. And I wasn't going to give up knowing that it took us almost 2 years to find a manufacturer for our BEET'UMS™ performance chews.

An Opportunity Arises
Fast forward to mid 2018 when I decided to part ways with our current manufacturer. This was going to be our big chance to give it start the search again for a company to produce and flavor FUNDAMINOS™.
And it wasn't easy! It took me 5 months and interviewing and vetting 8 manufacturers until we finally found one that could meet our production and purity needs. But unfortunately, after another 4 months and 5 samples their upgraded FUNDAMINOS™ blend seemed to be getting worse.
Chicago Here I Come

So, on a wintry, icy February day, I visited the new manufacturer's Chicago area lab to spend time with their flavor technologists. I was intent on staying there until we mailed the flavor.
I have to be honest with you that when I used to drink FUNDAMINOS™, I really never actually paid attention to the flavor other than the back end lingering bitterness. So it was quite interesting to spend all day taste testing over 35 different changing samples of our blend and comparing them to other products on the market. It was not as fun as wine tasting, still the experience felt the same.
Here's what I learned.
How natural flavors are created. It turns out their flavor house is one of the largest in the country and they took me on an extensive tour of the facility.
Why citric acid is used so frequently. It is inexpensive and blocks bitterness, but in large amounts it also creates an artificial flavor. There are many types of citirc acid that are used with the least expensive version being much less than healthful.
Why many manufacturers use artificial sweeteners. They are inexpensive and sweeteners such as sucralose (toxic as it may be) are intensely sweet and serve as great bitter blockers.
The benefits of using a combination of monk fruit and stevia. Stevia provides a front end sweetness while monk fruit provides a back end smoothness..
On an icy February afternoon in 2019, the 7th generation FUNDAMINOS™ blend was born.

The great news was with my direction and their expertise, we were able to find an amino acid that tasted quite good with our "secret sauce", a blend of tart and sweet fruit powders, natural flavors, a natural bitter blocker and both stevia and monk fruit sweeteners.


I have to admit, I was a bit nervous when we received the first finished bag of the new blend from the manufacturer. I was concerned the production run flavor would not match the lab sample and that the new flavoring would not be liked by our loyal users.
Fortunately, not only has been feedback on the new flavor blend has been awesome. And since it's release 3 months ago only a few bags have been returned for taste issues. (This is a huge drop from previous versions!)

Now at last after 10 years, I am excited to say that FUNDAMINOS™ is no longer just for competitive athletes or longevity enthusiasts but with its' new flavor profile anyone can benefit from it's regularly use.
Take the FUNDAMINOS™ Challenge
Compare it to any other essential amino acid formula using the critieria below..


Purity

FUNDAMINOS™ contains plant-based aminos, organic fruit powder and nothing artificial.
Price
Per gram of essential amino acids FUNDAMINOS™ costs ⅔ the amount of Kion Aminos, Perfect Aminos and MAP)
Flavor
Certainly this is subjective but after having tasted at least 25 essential amino acids on the market and more than 35 bench samples of FUNDAMINOS™ I am confident that almost all will agree that FUNDAMINOS™ tops them all by a significant margin.

Pro Tip!

A great way to drink FUNDAMINOS™ is blended with water, ice and a bit of tart juice.
A Gem cannot be polished without friction, nor FUNDAMINOS™ perfected without trials
2009

Old FUNDAMINOS
2019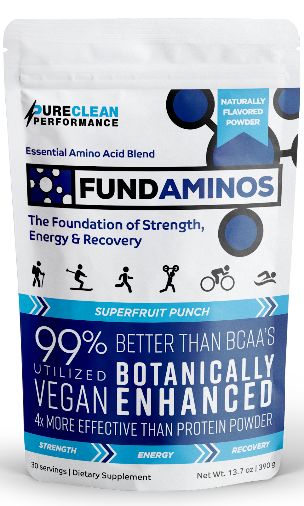 New FUNDAMINOS

Until the end of August you can save 20% and check it out.
Whether you are a regular user, somebody who stopped using in the past or never tried FUNDAMINOS™, use the coupon GOTFUNDAMINOS20 for 20% off and let me know about your experience.
Shoot for 2 scoops daily, either 2 at a time or even better 1 scoop twice daily. Your body will thank you.
Have questions? We are here to help.

888-371-1033