Skip Bananas when having Chocoberry and Smoothies! And How to Make a Better Smoothie.
Certain foods can impede/block the absorption of  flavanols when combined with other foods high in flavanols. We also suspect the blending of these foods with a smoothie full of flavanols must make it more of a problem as well. One of the main worst foods per the research studies we can see is a banana (healthy carb option, along with honey). This means make sure to avoid consuming bananas, which are high in polyphenol oxidase that causes the blocking of the healthy flavanol nutrition, when having your Chocoberry smoothie or any nutrient berry, veggie, or nutrient dense smoothie/meal. Bananas are a really common smoothie ingredient so remember this fact to maximize your beverage and health. Here are also some top foods in flavanols you can pay attention to and scroll down to see the picture of other high polyphenol oxidase foods: In addition to banana, leaves of beetroot and pome fruits were the foods with the highest PPO activity, and all had the ability to use (−)-epicatechin as an enzyme substrate."
Resources:
https://medium.com/beingwell/smoothie-sabotage-skip-the-banana-7463d2e114c7
https://pubs.rsc.org/en/content/articlelanding/2023/FO/D3FO01599H
Article SUMMARY #1:
Impact of polyphenol oxidase on the bioavailability of flavan-3-ols in fruit smoothies: a controlled, single blinded, cross-over study
†
Abstract
Flavan-3-ols are bioactive compounds found in a variety of fruits and vegetables (F&V) that have been linked to positive health benefits. Increasing habitual flavan-3-ol intake is challenged by the generally low consumption of F&V. While smoothies are a commonly endorsed, consumer-accepted means to increase the daily intake of these important foods, fruits used for smoothie preparation can have a high polyphenol oxidase (PPO) activity and thus potentially affect the content and bioavailability of flavan-3-ols. To assess whether or not consuming freshly prepared smoothies made with different PPO-containing fruit impacts the bioavailability of the flavan-3-ols, a controlled, single blinded and cross-over study was conducted in healthy men (n = 8) who consumed a flavan-3-ol-containing banana-based smoothie (high-PPO drink), a flavan-3-ol-containing mixed berry smoothie (low-PPO drink) and flavan-3-ols in a capsule format (control). The peak plasma concentration (Cmax) of flavan-3-ol metabolites after capsule intake was 680 ± 78 nmol L−1, which was similar to the levels detected after the intake of the low PPO drink. In contrast, the intake of the high PPO drink resulted in a Cmax of 96 ± 47 nmol L−1, 84% lower than that obtained after capsule intake. In a subsequent study (n = 11), flavan-3-ols were co-ingested with a high-PPO banana drink but contact prior to intake was prevented. In this context, plasma flavan-3-ol levels were still reduced, suggesting an effect possibly related to post-ingestion PPO activity degrading flavan-3-ols in the stomach. There was a substantial range in the PPO activity detected in 18 different fruits, vegetables and plant-derived dietary products. In conclusion, bioavailability of flavan-3-ols, and most likely other dietary polyphenol bioactives, can be reduced substantially by the co-ingestion of high PPO-containing products, the implications of which are of importance for dietary advice and food preparation both at home and in industrial settings.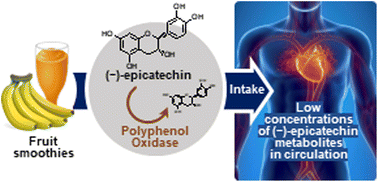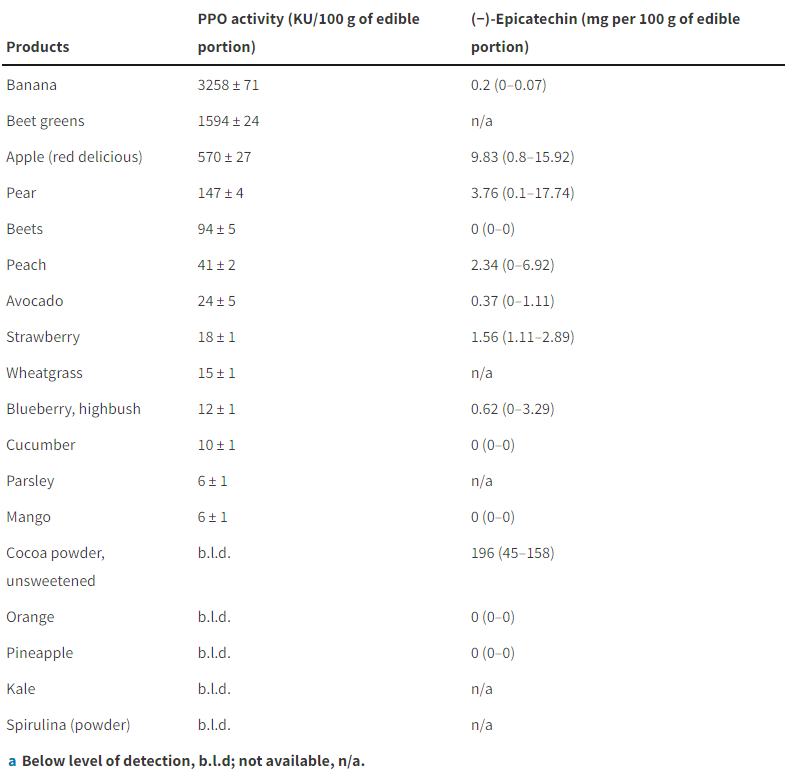 Article SUMMARY #2:
Smoothie Sabotage: Skip the Banana
YOU MIGHT WANT TO AVOID PUTTING that banana in your smoothie. Researchers recently discovered that adding a banana decreased health-promoting flavanol levels. Smoothie sabotage: Skip the banana.
Smoothies can be a convenient and tasty way for me to consume fruits and vegetables that promote health. I sometimes struggle to get in recommended quantities of fruits and vegetables, so smoothies have become appealing.
But what combination is optimal? Can I blend a banana and blueberry into a smoothie?
University of California, Davis researchers recently found that blending certain ingredients in smoothies can influence whether your body gets a nutritional boost. Smoothie sabotage.
Smoothies Are Popular
Smoothies have gained immense popularity recently as a convenient and nutritious way to consume fruits and vegetables.
Researchers valued the global smoothies market size at USD 6.68 billion in 2021. Rising awareness for a healthier life will likely boost market growth from 2023 to 2028.
The projected growth of healthy beverages will largely come from emerging economies such as China and India.
The drinks offer a quick and delicious means to pack vital nutrients into our diets, but one ingredient often finds its way into the blender without much thought: the banana.
While bananas are undeniably nutritious, their addition to every smoothie might only sometimes be the best choice for maximizing the nutritional benefits. Before we turn to smoothie sabotage, let's look at the appeal of smoothies.
H. D. Sesso , J. E. Manson , A. K. Aragaki , P. M. Rist , L. G. Johnson , G. Friedenberg , T. Copeland , A. Clar , S. Mora , M. V. Moorthy , A. Sarkissian , W. R. Carrick , G. L. Anderson and COSMOS Research Group , Effect of cocoa flavanol supplementation for the prevention of cardiovascular disease events: the COcoa Supplement and Multivitamin Outcomes Study (COSMOS) randomized clinical trial, Am. J. Clin. Nutr., 2022, 115 , 1490 —1500 CrossRef PubMed .

R. P. Sloan , M. Wall , L. K. Yeung , T. Feng , X. Feng , F. Provenzano , H. Schroeter , V. Lauriola , A. M. Brickman and S. A. Small , Insights into the role of diet and dietary flavanols in cognitive aging: results of a randomized controlled trial, Sci. Rep., 2021, 11 , 3837 CrossRef CAS PubMed .

K. M. Crowe-White , L. W. Evans , G. G. C. Kuhnle , D. Milenkovic , K. Stote , T. Wallace , D. Handu and K. E. Senkus , Flavan-3-ols and Cardiometabolic Health: a Guideline Recommendation by the Academy of Nutrition and Dietetics, Adv. Nutr., 2022, 13 , 2070 —2083 CrossRef PubMed .

S.Bhagwat and D. B.Haytowitz, USDA database for the proanthocyanidin content of selected foods, release 2, 2015 (accessed October 2022). , USDA database for the proanthocyanidin content of selected foods, release 2, 2015 (accessed October 2022)

S.Bhagwat and D. B.Haytowitz, USDA database for the flavonoid content of selected foods. Release 3.2., 2015 (accessed October 2022). , USDA database for the flavonoid content of selected foods. Release 3.2., 2015 (accessed October 2022)

V. Neveu , J. Perez-Jimenez , F. Vos , V. Crespy , L. du Chaffaut , L. Mennen , C. Knox , R. Eisner , J. Cruz , D. Wishart and A. Scalbert , Phenol-Explorer: an online comprehensive database on polyphenol contents in foods, Database, 2010, 2010 , bap024 CrossRef CAS PubMed .

USDA and HHS 2020–2025 Dietary Guidelines for Americans , 2020, Search PubMed . , Available at https://www.DietaryGuidelines.gov. (accessed October 2022)

S. S. Casagrande , Y. Wang , C. Anderson and T. L. Gary , Have Americans increased their fruit and vegetable intake? The trends between 1988 and 2002, Am. J. Prev. Med., 2007, 32 , 257 —263 CrossRef PubMed .

E. Derbyshire Where are we with smoothies? A eview of the latest guidelines, nutritional gaps and evidence, J. Nutr. Food Sci., 2017, 7 , 632 Search PubMed .

U. National Health Service, 5 A Day portion sizes. Available at https://www.nhs.uk/live-well/eat-well/5-a-day/portion-sizes/, (accessed October 2022). , (accessed October 2022)

C. Myers , D. McCartney , B. Desbrow , S. Khalesi and C. Irwin , Consumption of a smoothie or cereal-based breakfast: impact on thirst, hunger, appetite and subsequent dietary intake, Int. J. Food Sci. Nutr., 2021, 72 , 123 —133 CrossRef CAS PubMed .

B. Y. Rollins , W. Stein , K. L. Keller and J. S. Savage , Preschoolers will drink their GREENS! Children accept, like, and drink novel smoothies containing dark green vegetables (DGVs), Appetite, 2021, 162 , 105148 CrossRef PubMed .

M. E. Almeida and J. N. Nogueira , The control of polyphenol oxidase activity in fruits and vegetables. A study of the interactions between the chemical compounds used and heat treatment, Plant Foods Hum. Nutr., 1995, 47 , 245 —256 CrossRef CAS PubMed .

E. Haslam Practical polyphenolics: from structure to molecular recognition and physiological action , Cambridge University Press, Cambridge, UK, 1998, Search PubMed .

C. P. Yang , S. Fujita , M. Ashrafuzzaman , N. Nakamura and N. Hayashi , Purification and characterization of polyphenol oxidase from banana (Musa sapientum L.) pulp, J. Agric. Food Chem., 2000, 48 , 2732 —2735 CrossRef CAS PubMed .

M. M. Sojo , E. Nuñez-Delicado , F. García-Carmona and A. Sánchez-Ferrer , Monophenolase Activity of Latent Banana Pulp Polyphenol Oxidase, J. Agric. Food Chem., 2008, 46 , 4931 —4936 CrossRef .

K. M. Moon , E. B. Kwon , B. Lee and C. Y. Kim , Recent Trends in Controlling the Enzymatic Browning of Fruit and Vegetable Products, Molecules, 2020, 25 , 2754 CrossRef CAS PubMed .

A. M. Mayer Polyphenol oxidases in plants and fungi: going places? A review, Phytochemistry, 2006, 67 , 2318 —2331 CrossRef CAS PubMed .

C. Queiroz , M. L. Mendes Lopes , E. Fialho and V. L. Valente-Mesquita , Polyphenol Oxidase: Characteristics and Mechanisms of Browning Control, Food Rev. Int., 2008, 24 , 361 —375 CrossRef CAS .

S. Zolghadri , A. Bahrami , M. T. Hassan Khan , J. Munoz-Munoz , F. Garcia-Molina , F. Garcia-Canovas and A. A. Saboury , A comprehensive review on tyrosinase inhibitors, J. Enzyme Inhib. Med. Chem., 2019, 34 , 279 —309 CrossRef CAS PubMed .

N. Hamdan , C. H. Lee , S. L. Wong , C. Fauzi , N. M. A. Zamri and T. H. Lee , Prevention of Enzymatic Browning by Natural Extracts and Genome-Editing: A Review on Recent Progress, Molecules, 2022, 27 , 1101 CrossRef CAS PubMed .

X. Fan Chemical inhibition of polyphenol oxidase and cut surface browning of fresh-cut apples, Crit. Rev. Food Sci. Nutr., 2022, 10.1080/10408398.2022.2061413 1 —15 Search PubMed .

A. Jukanti Polyphenol Oxidase(s): Importance in Food Industry, Polyphenol Oxidases (PPO) in Plants , Springer Nature, Singapore, 2017, 93–106 Search PubMed .
The contents of this blog post or any information on purecleanperformance.com should not be taken as medical advice. It is not intended to diagnose, treat, cure, or prevent any health problem, nor is it intended to replace the advice of a physician. Always consult your physician or qualified health professional on any matters regarding your health.