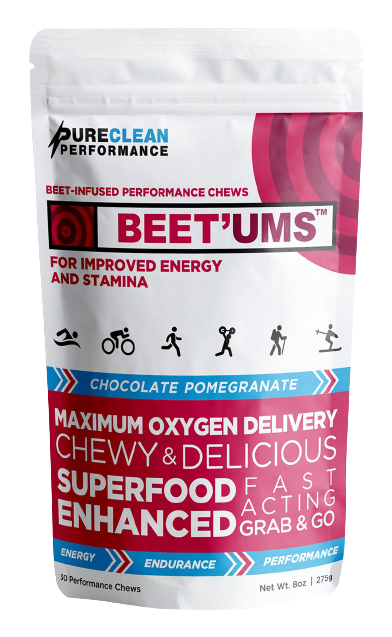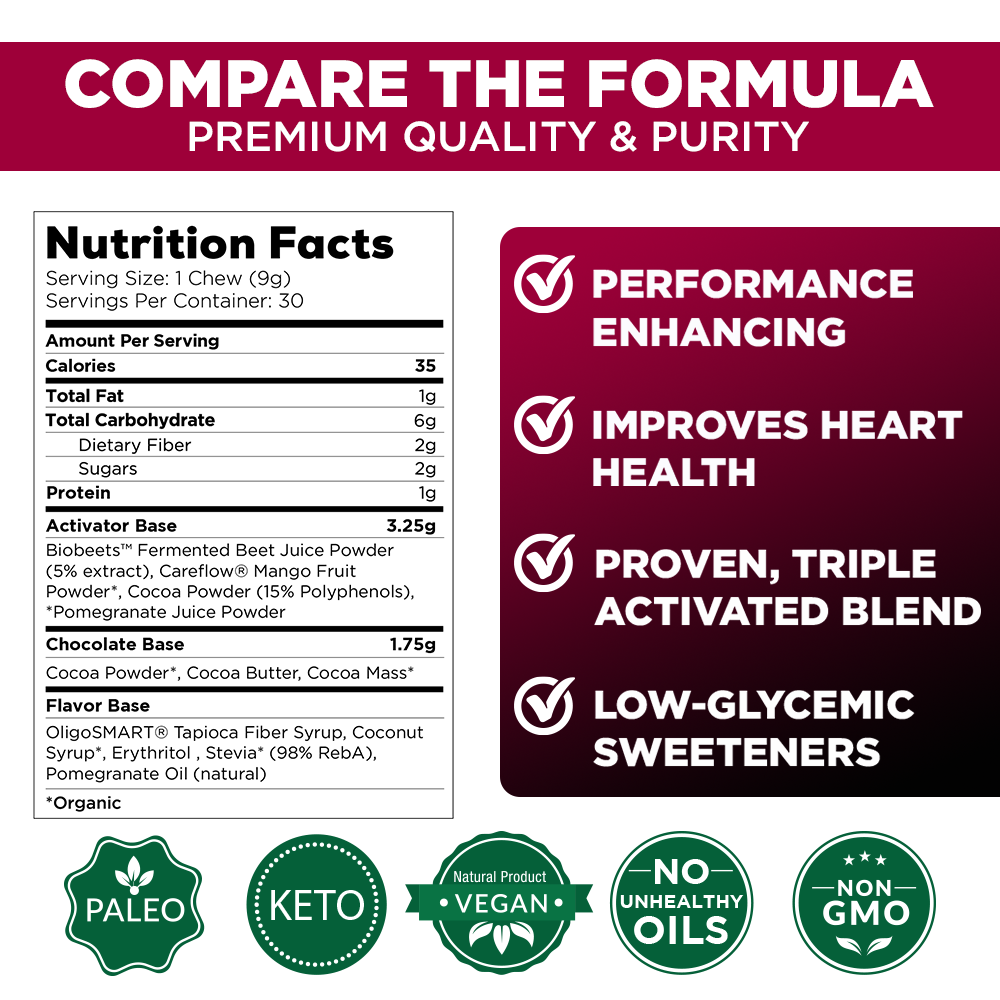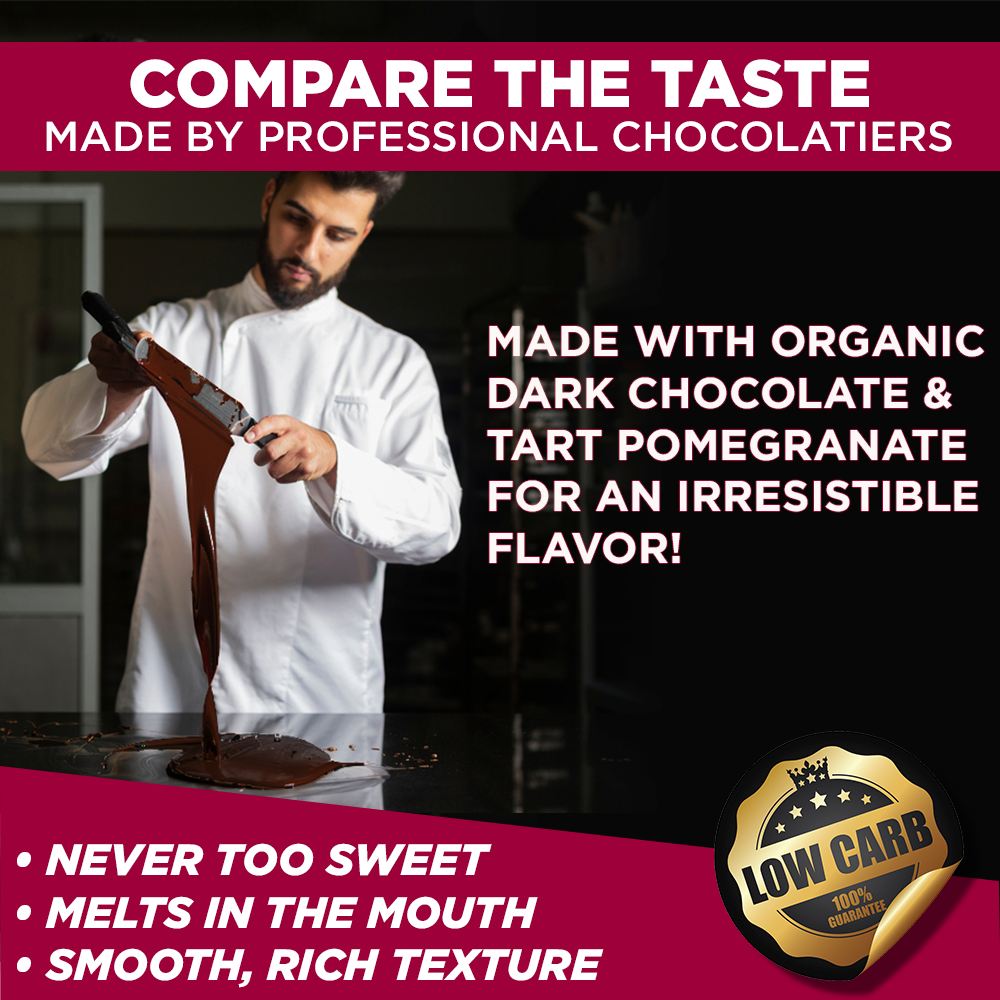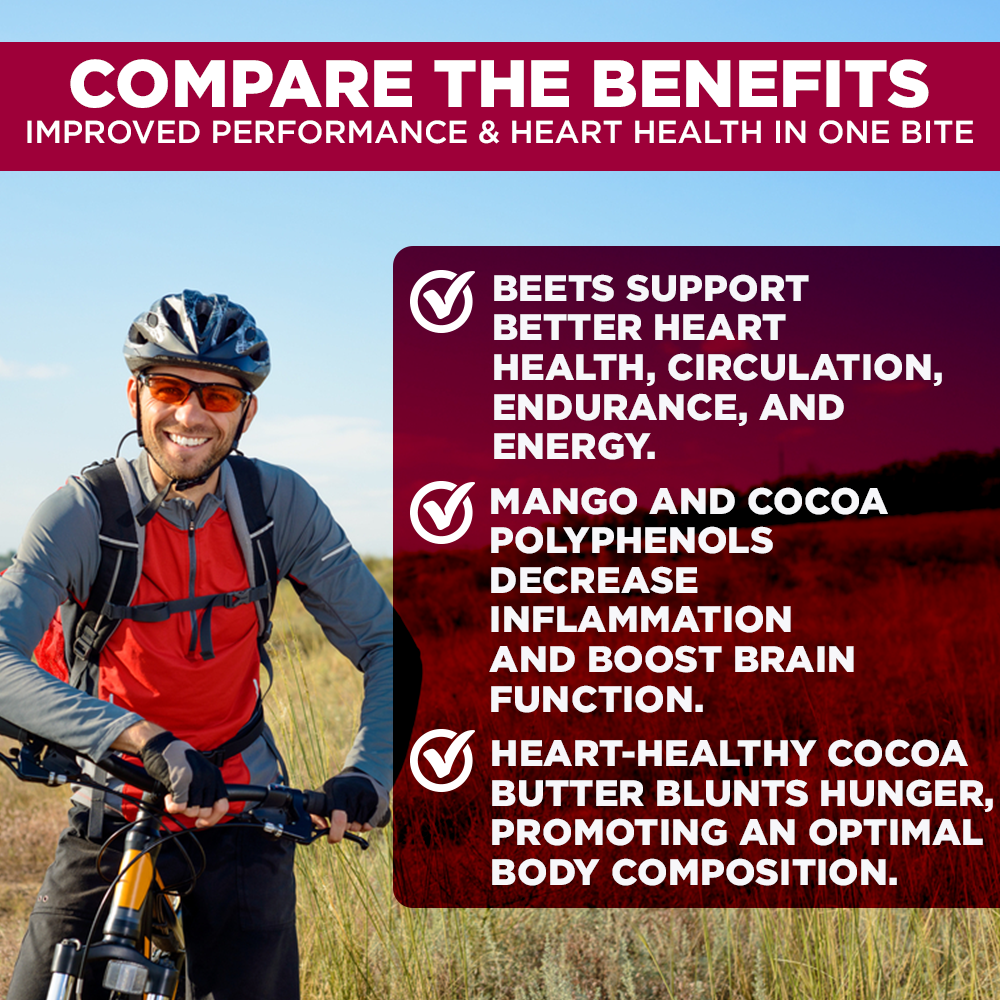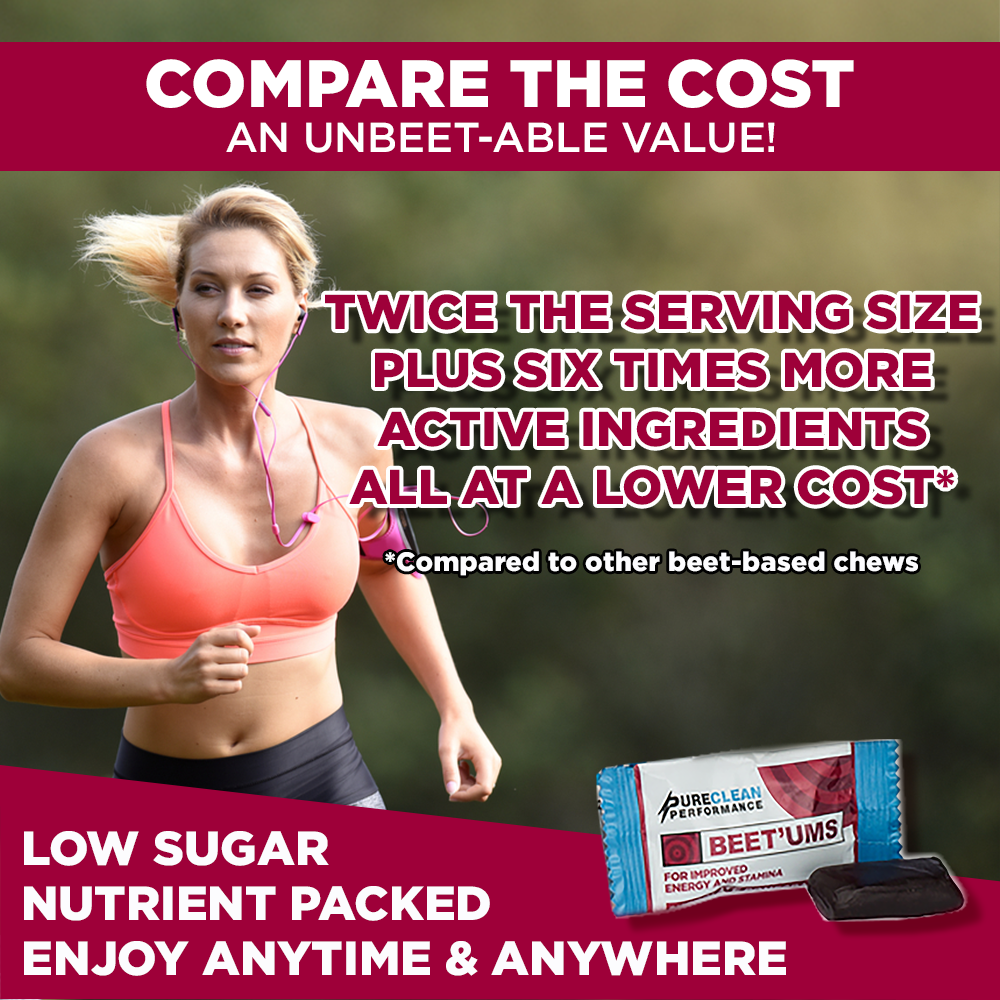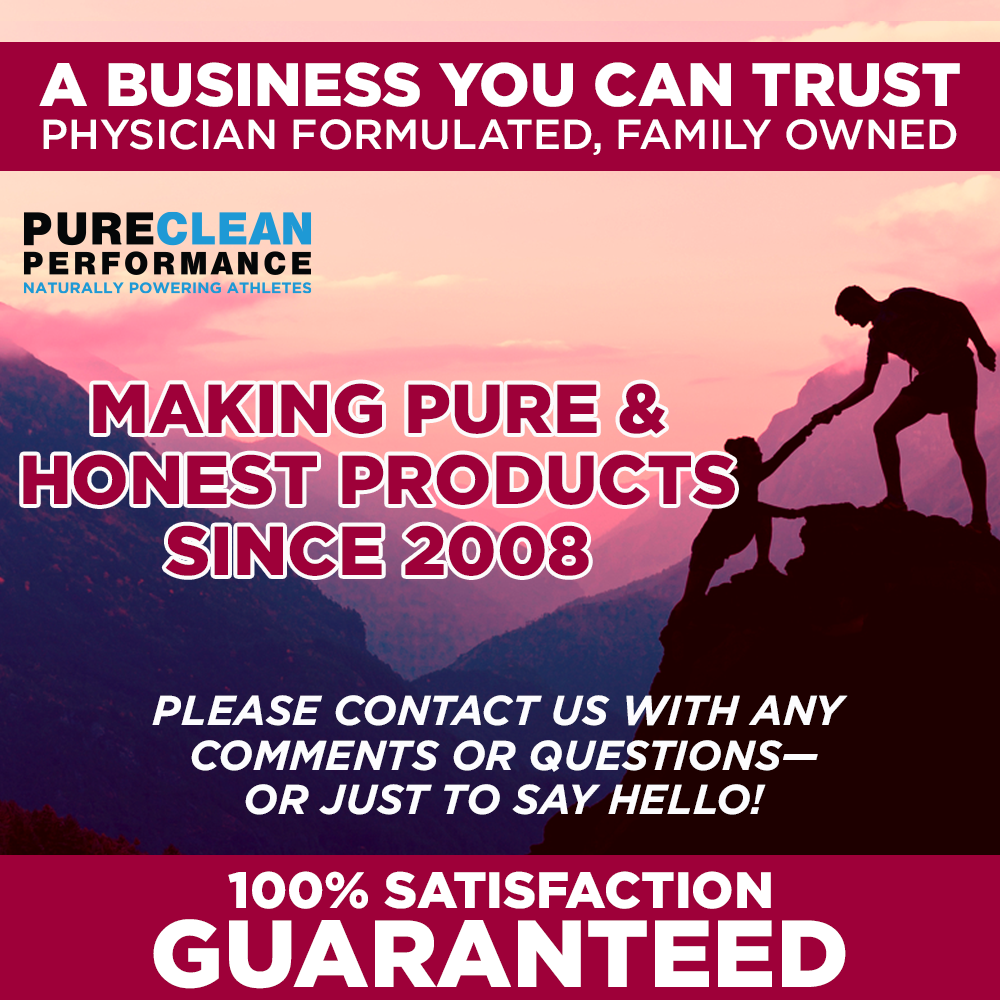 BEET'UMS™ - The World's First Beet-Infused Performance Chews
Elevated Cardiovascular Performance
Fast Acting & Naturally Increases Endurance
4X the Nitric Oxide Power of Regular Beets
Superfood Supercharged for Better Health
Unbeetable Flavor, Texture, & Satisfaction
Individually Packed. Performance Anytime, Anywhere
Professional Athletes Confirm: It Works!
This product comes with my 100% money back guarantee

Elevated Cardiovascular Performance
Fast Acting & Naturally Increases Endurance
4X the Nitric Oxide Power of Regular Beets
Superfood Supercharged for Better Health
Unbeetable Flavor, Texture, & Satisfaction
Individually Packed. Performance Anytime, Anywhere
Professional Athletes Confirm: It Works!
The Best Tasting, Healthiest Health & Performance Boost Ever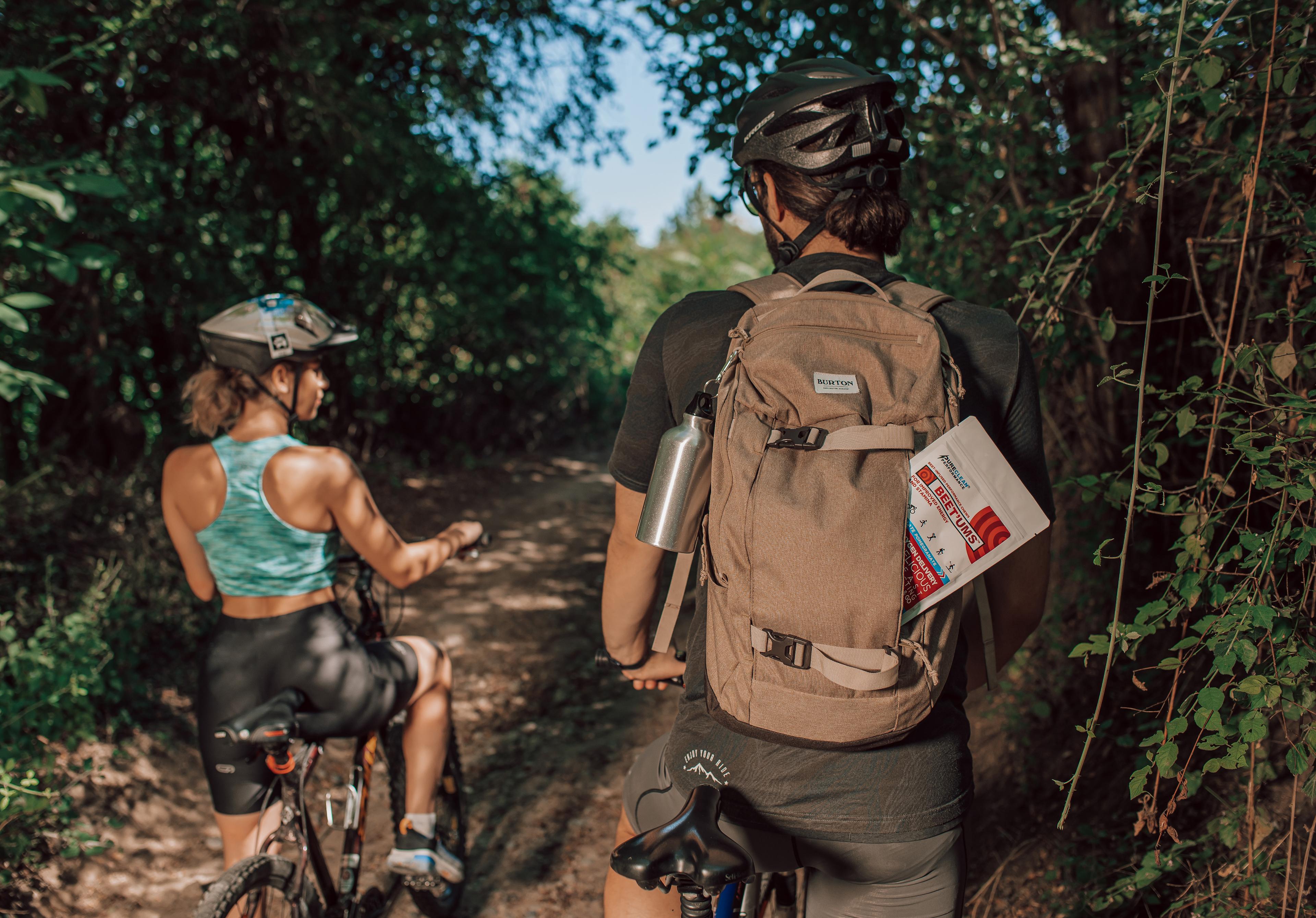 Why Are We So Bold?
FORMULATED FOR PEAK HEALTH AND PERFORMANCE: BEET'UMS™ amplify and supply the crucial nitric oxide gas your cells need for peak performance.
PROS LOVE BEET'UMS™: optimize both your health and stamina with antioxidants and naturally occurring nutrients for beast-mode arterial and heart function.
TONS OF BENEFITS: They increase strength, no matter the chosen activity. BEET'UMS™ work for two to four hours, naturally!

Proprietary Formulation
DELICIOUS & FUN: BEET'UMS are manufactured for taste and efficacy by a professional chocolatier.
UNIQUE EXTRACTION PROCESS: BEET'UMS™ are made from really special beets that are juiced, fermented, and then dried into a powder only at low temperature for four times the nitric oxide power.
SATISFY YOUR TASTE BUDS: Chocolate, cocoa flavonoids, and pomegranate extract all work magically together for a performance boost or as a delicious snack.
USE ANYWHERE AND ANYTIME: Each chew is individually packaged for both convenience and freshness. Take one or two before a workout, as a on-the-go snack, and when hiking, biking, swimming, or on a long-haul effort to replenish energy.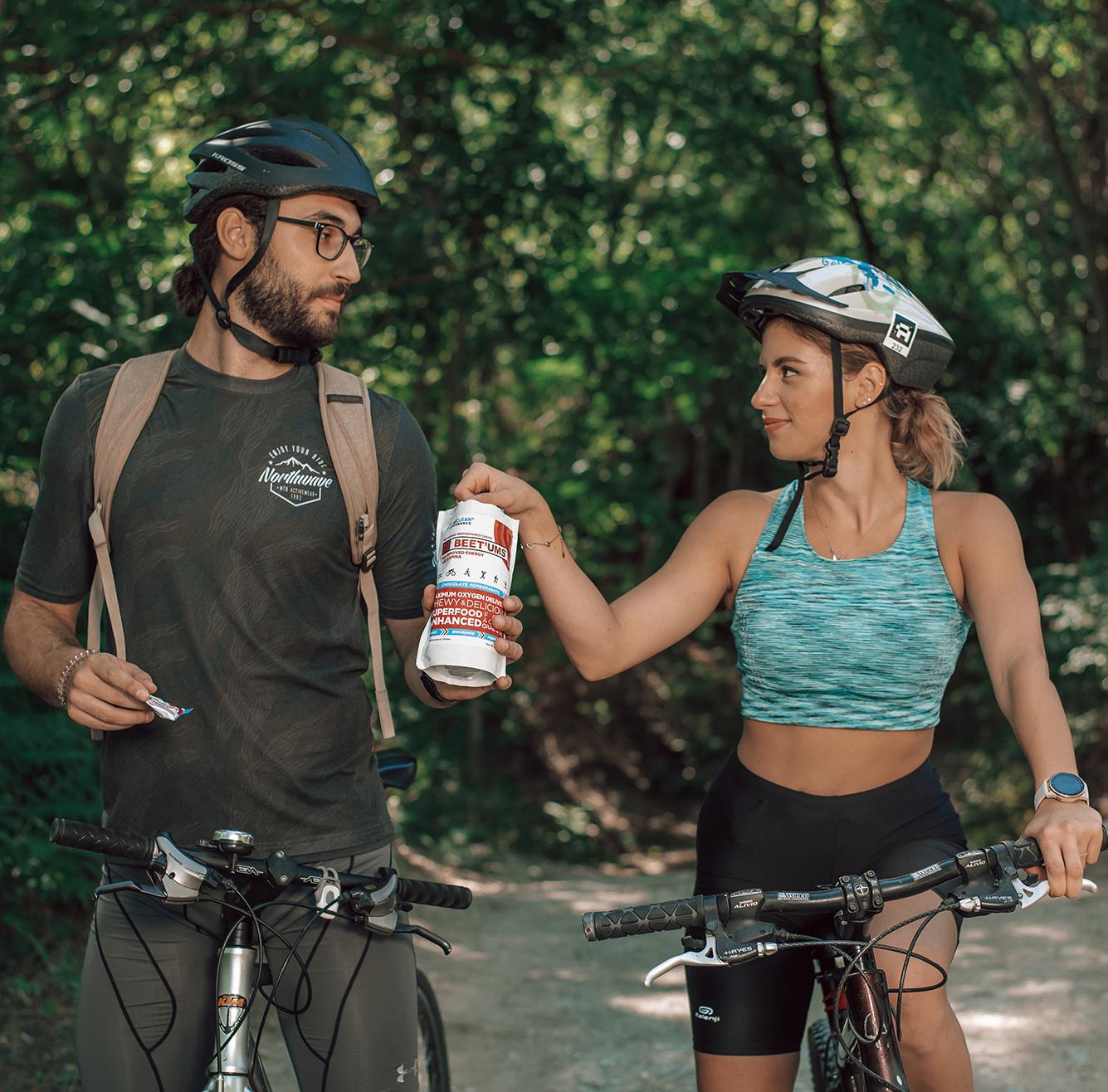 Small Chew, Big Benefits
THE ULTIMATE NITRIC OXIDE BOOST: BEET'UMS™ combine a specially-processed beet juice powder and a proprietary super-food blend for the ultimate nitric oxide boost! Consuming its performance-enhancing ingredients in a chew extends their time in the mouth, which boosts the nitric oxide benefits of (among many) better intra-cellular oxygen delivery for increased strength, energy, and endurance.
GRAB-AND-GO: Take one or two while working out, hiking, or during a long bike ride to replenish energy due to their convenience and individual packaging.
PURE & CLEAN INGREDIENTS: Our honest-to-goodness formulas don't contain fillers, additives, nor any genetically-modified or potentially-unsafe ingredients.
Superfood Supercharged
PURE AND POTENT BEET JUICE POWDER: the foundation of the BEET'UMS™ formula.
BOTANTICALLY ENHANCED WITH SUPERFOODS: These tasty, chewy, chocolatey bites of health and fitness have been botanically-enhanced with a synergistic blend of super foods including organic dark cocoa, 15% cacao flavanols and a patented mango fruit powder proven to boost nitric oxide, reduce inflammation and more.
PROVEN QUALITY AND RESEARCH BACKED: Every single of these plant-based, performance-boosting compounds have been physician vetted and selected to specifically magnify the nitric oxide benefits of nutrient-dense beets.
Greater endurance, strength, energy, stress-resilience, and cardiovascular health.




This is an expertly physician formulated product with the highest possible integrity, knowledge, and quality.




You never will feel like your supplements are cheating you when your with PureClean Performance!




We are here for you: 888-371-1033.

What makes BEET'UMS ™ so special?

Because we have hacked the nitric oxide conversion process! By consuming BEET'UMS'™ performance-enhancing ingredients together in a chew, you extend their time in the mouth where powerful, salivary oral bacteria activate nitrates dramatically. Just so you know, only oral delivery (e.g. a chew) improves the nitric oxide capacity of beets by as much as 10 times inside the body. BEET'UMS™ provide the highest intra-cellular oxygen delivery you can find for increased strength, energy, and endurance. Science!




We also select for highest possible nitrite content beet varieties and put them through rigorous testing to ensure your getting the goods. The premium-quality, nutrient-rich, heirloom beets inside every BEET'UMS™ chew are juiced, fermented, and then dried for maximum potency.




Our unique and proprietary production process results in a beet juice powder with FOUR TIMES the nitric-oxide-boosting power of ordinary beets!

How does this product work?

BEET'UMS™ get their nitric oxide power from a synergistic combination of premium fermented beet juice powder, cacao flavanols and a mango extract. These ingredients are skillfully blended in with organic cacao butter, cocoa powder, and natural, low-carbohydrate sweeteners for a keto-friendly, chocolatey chew.

When should I start to feel the effects?

Most athletes find they achieve maximum results quickly with regular, daily use.

Do supermarket beets increase performance, too?

Sorry, no.




1. Commercial beet-varieties are not selected for their high-nitrate content.




2. Their nutrient density varies greatly based on their size.




3. The way commercial beets are grown and processed sometimes eliminates all of their performance enhancing benefits.

I can't stop eating BEET'MS™. Help!

Don't worry if you take more than the recommended amount, we hear this a lot! If you have a sensitive stomach, just make sure to keep within the recommended dosing amount.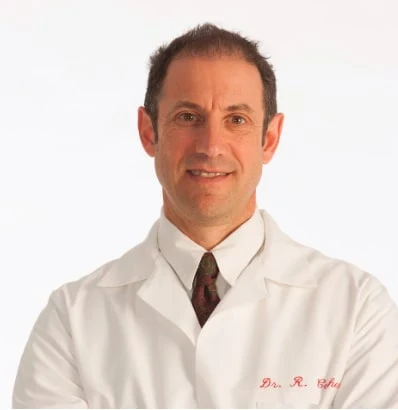 Clinically Proven, Physician Formulated
Hi, I'm Dr. Rick, CEO and creator of PureClean Performance.

My specialties are nutrition science, medicine and sports performance. Along with my team, I've developed a number of cutting-edge treatment programs and all natural products. I have been trusted for over 20 years to help my patients enhance their sports performance as well as eliminate a variety of health problems.

Join the thousands we've helped with our proven, cutting-edge and all-natural health and performance products and solutions. What are you waiting for?