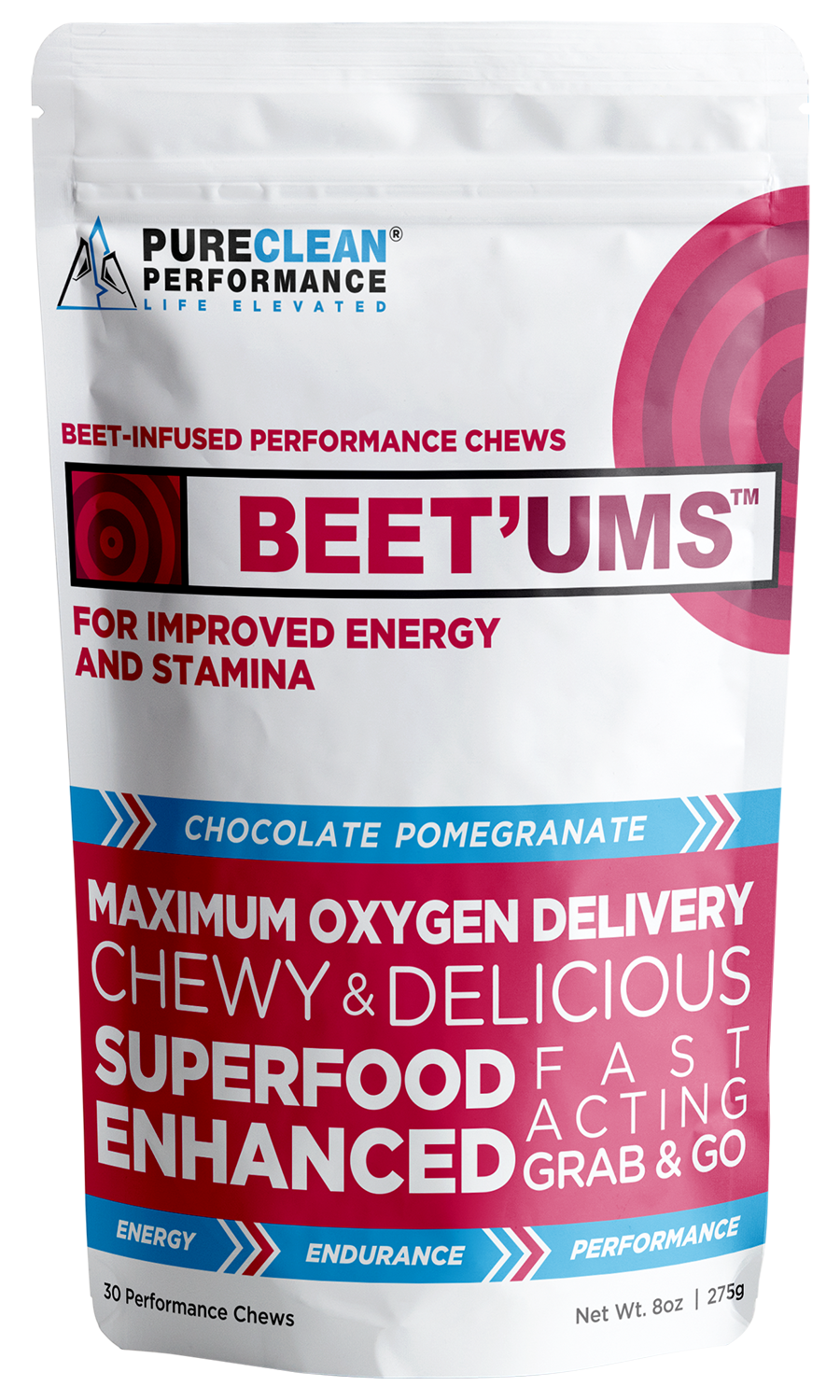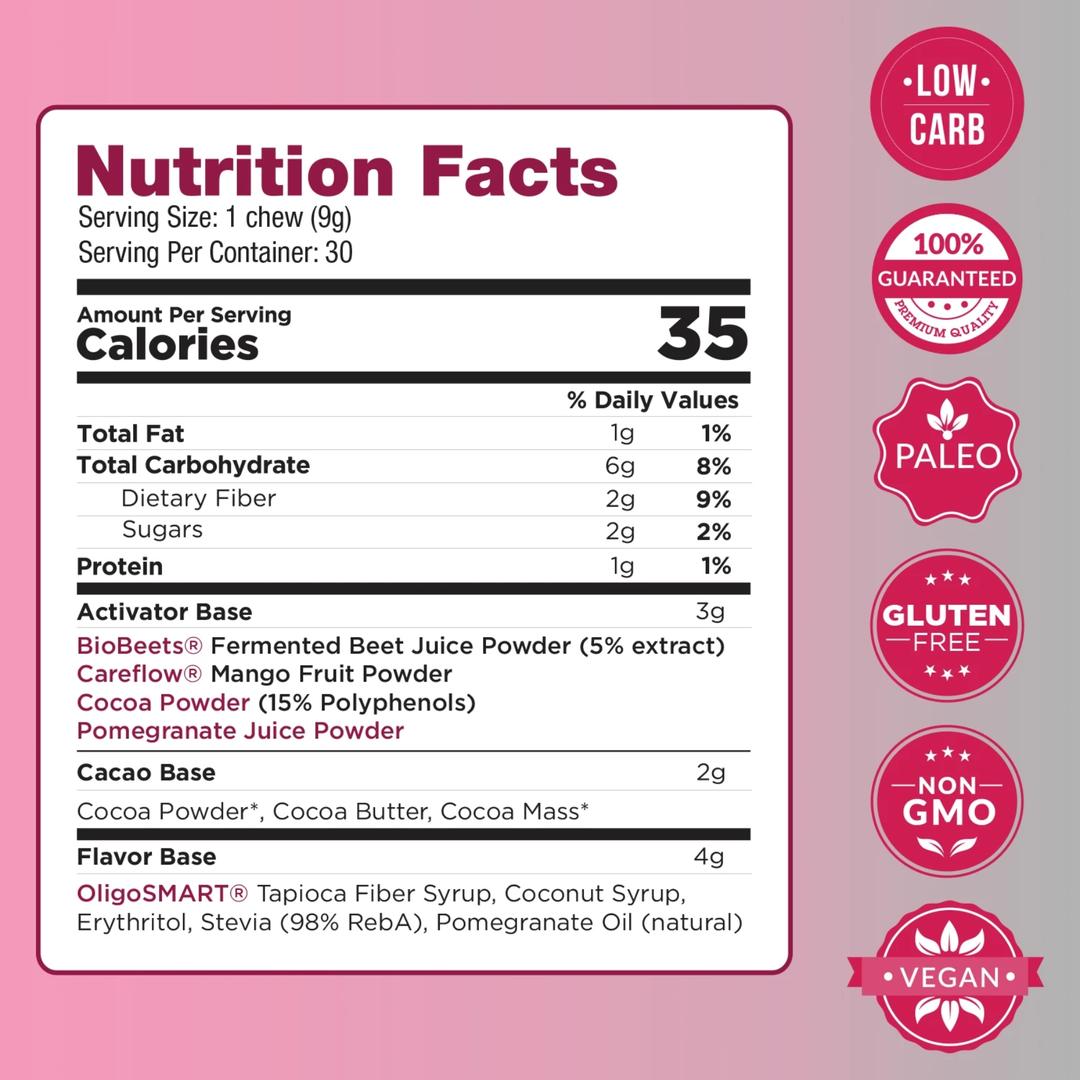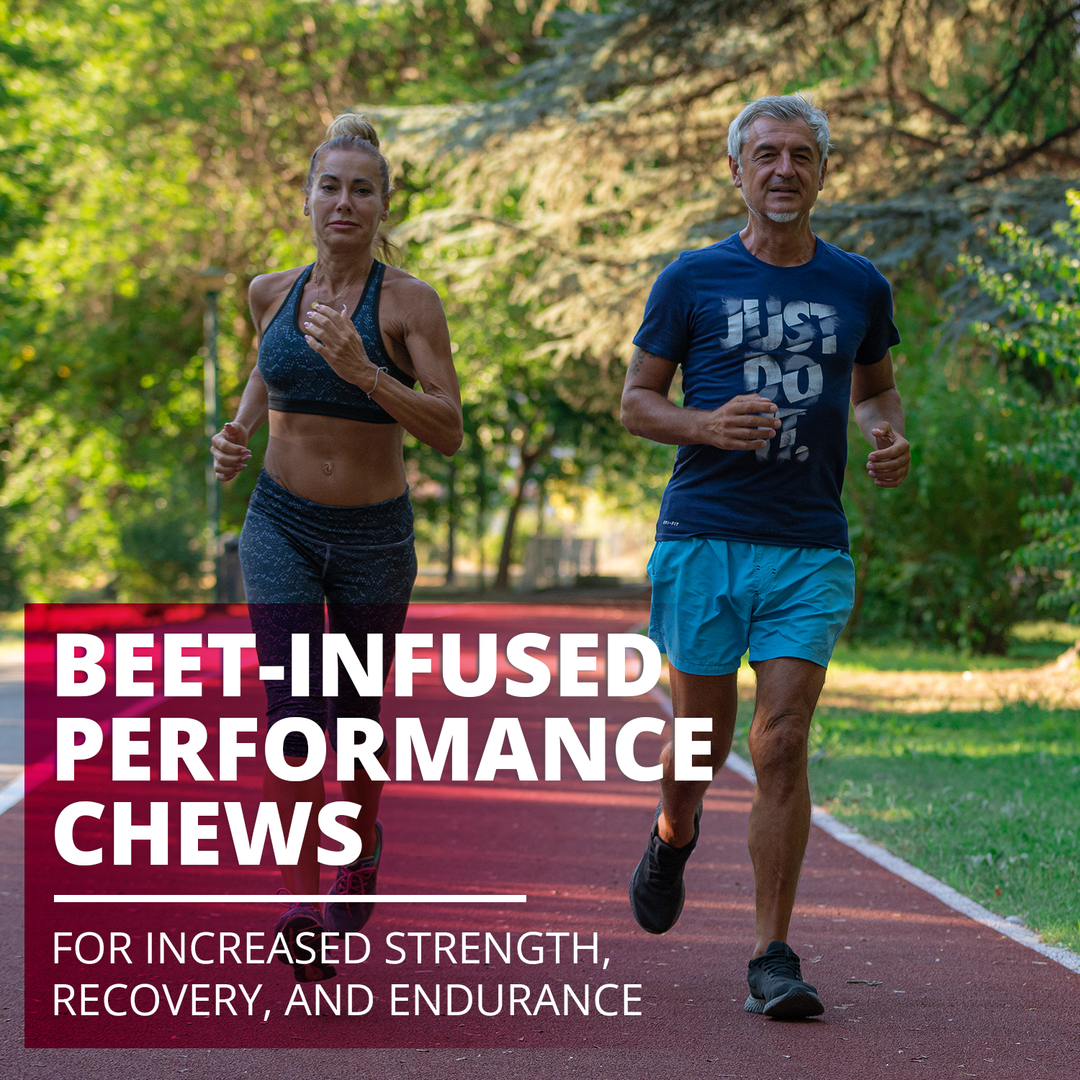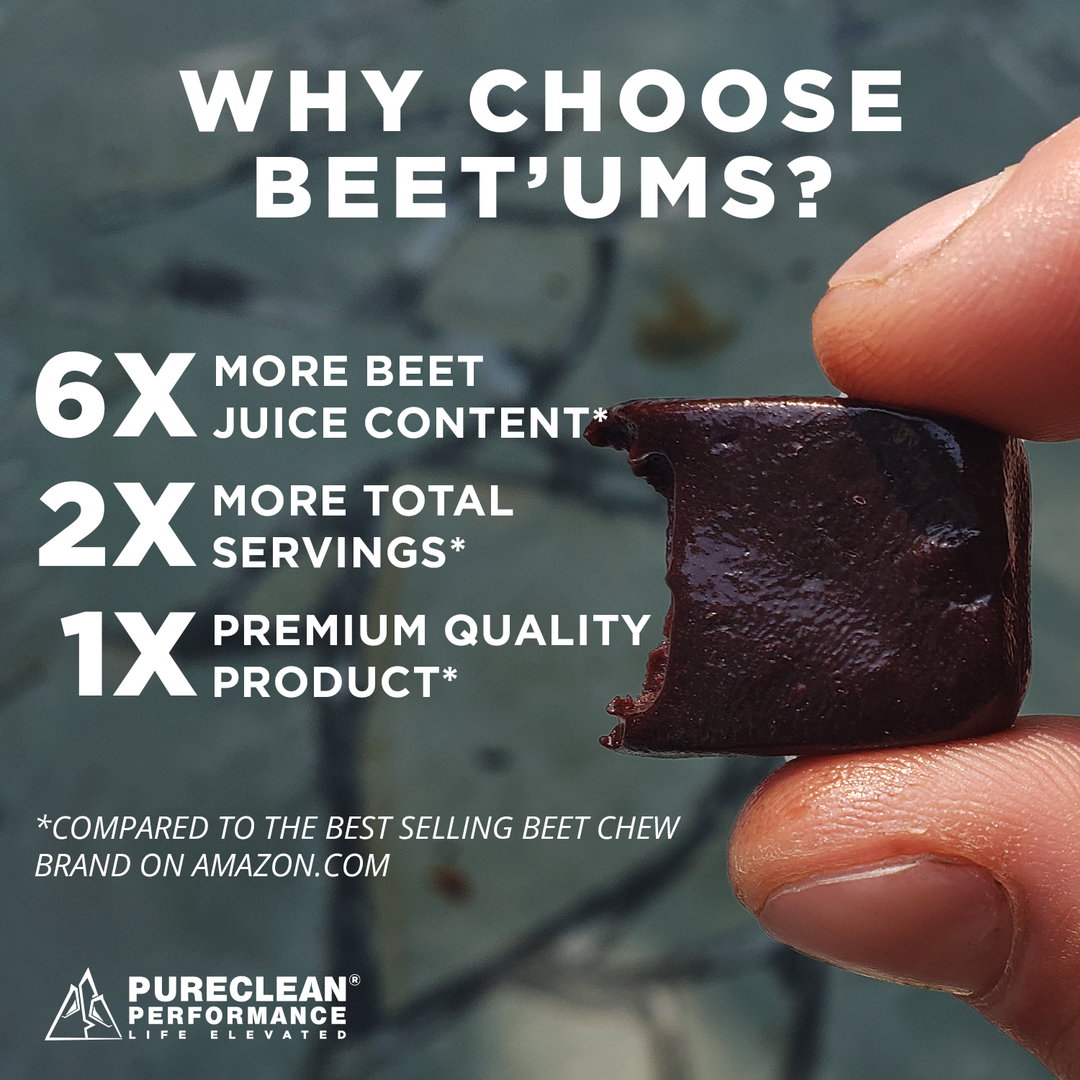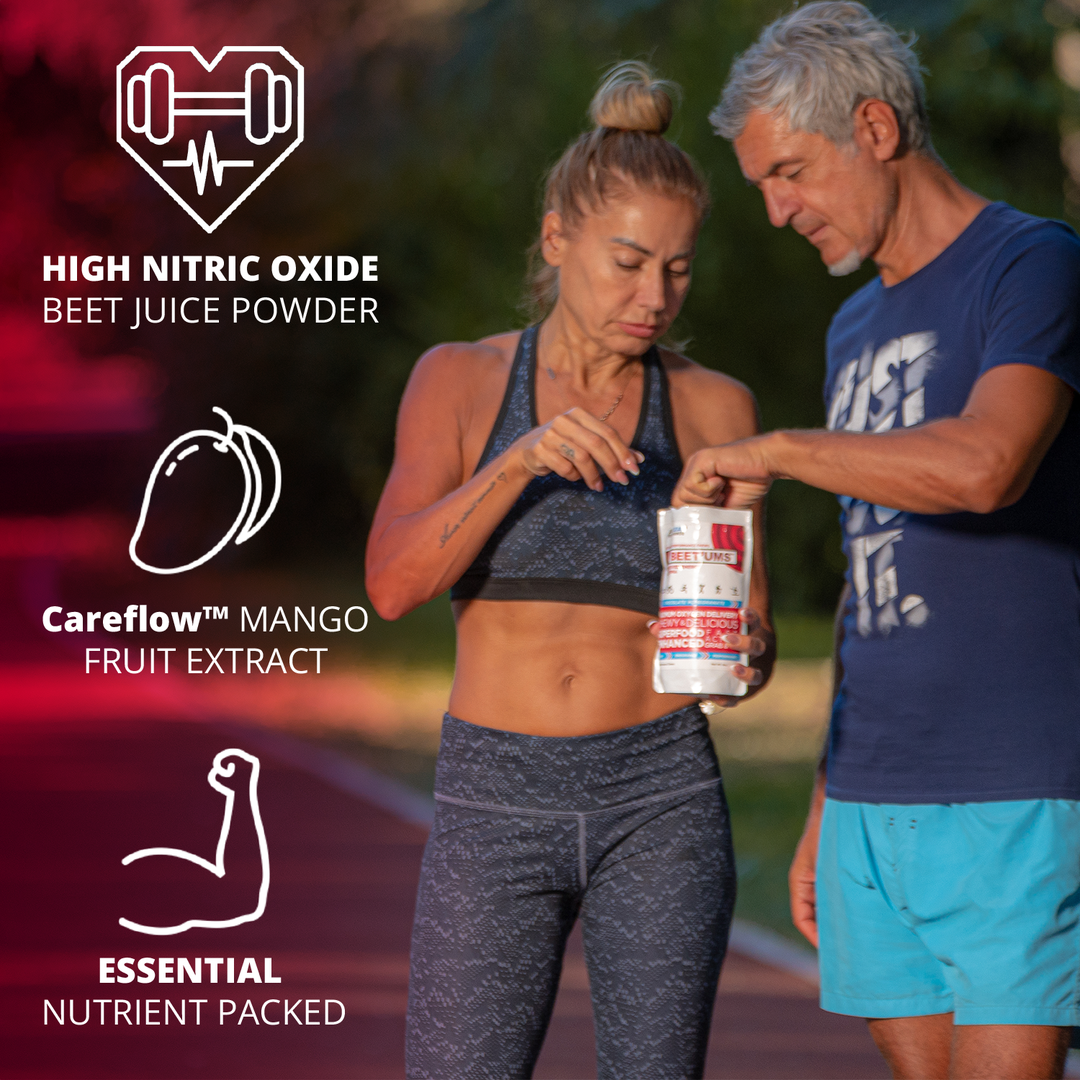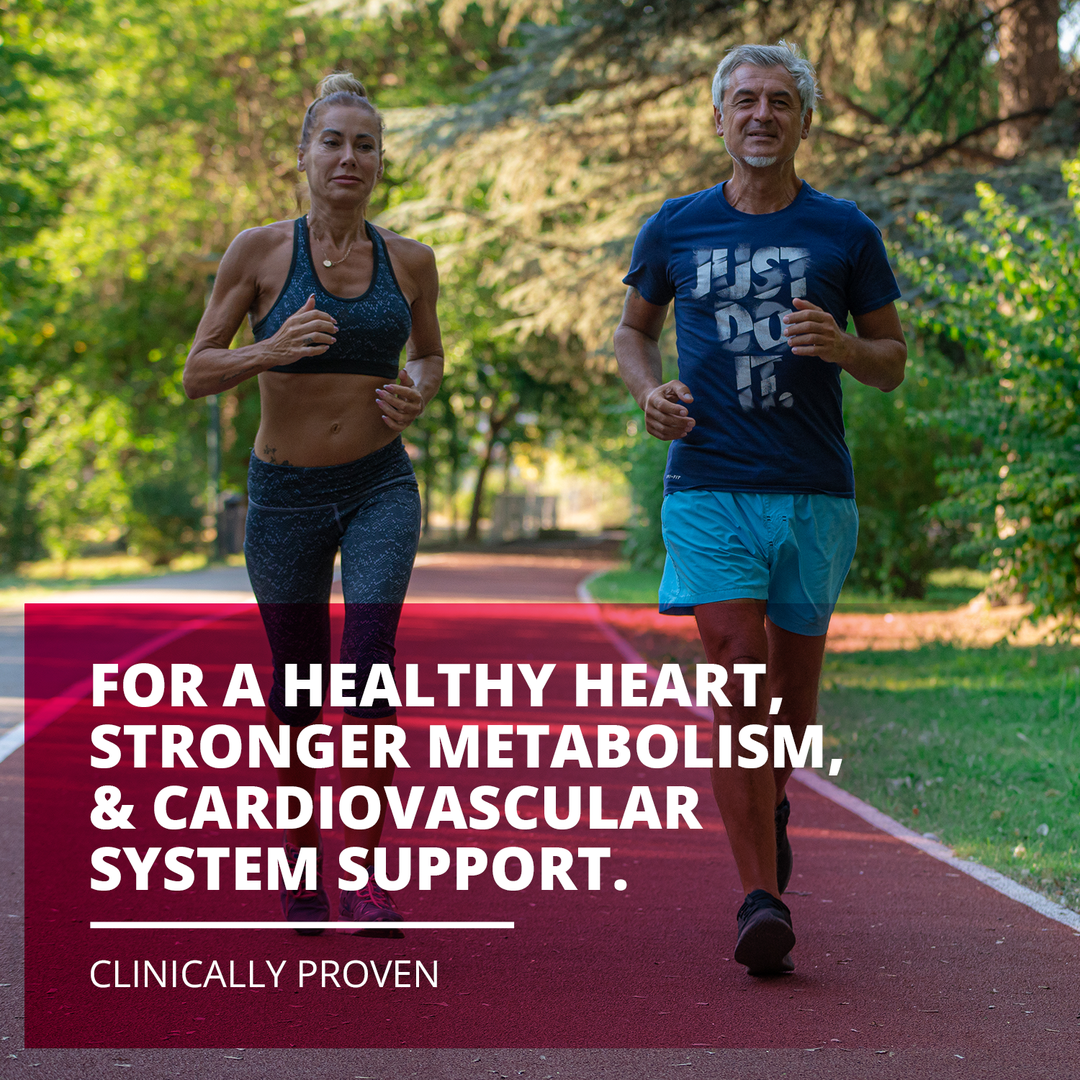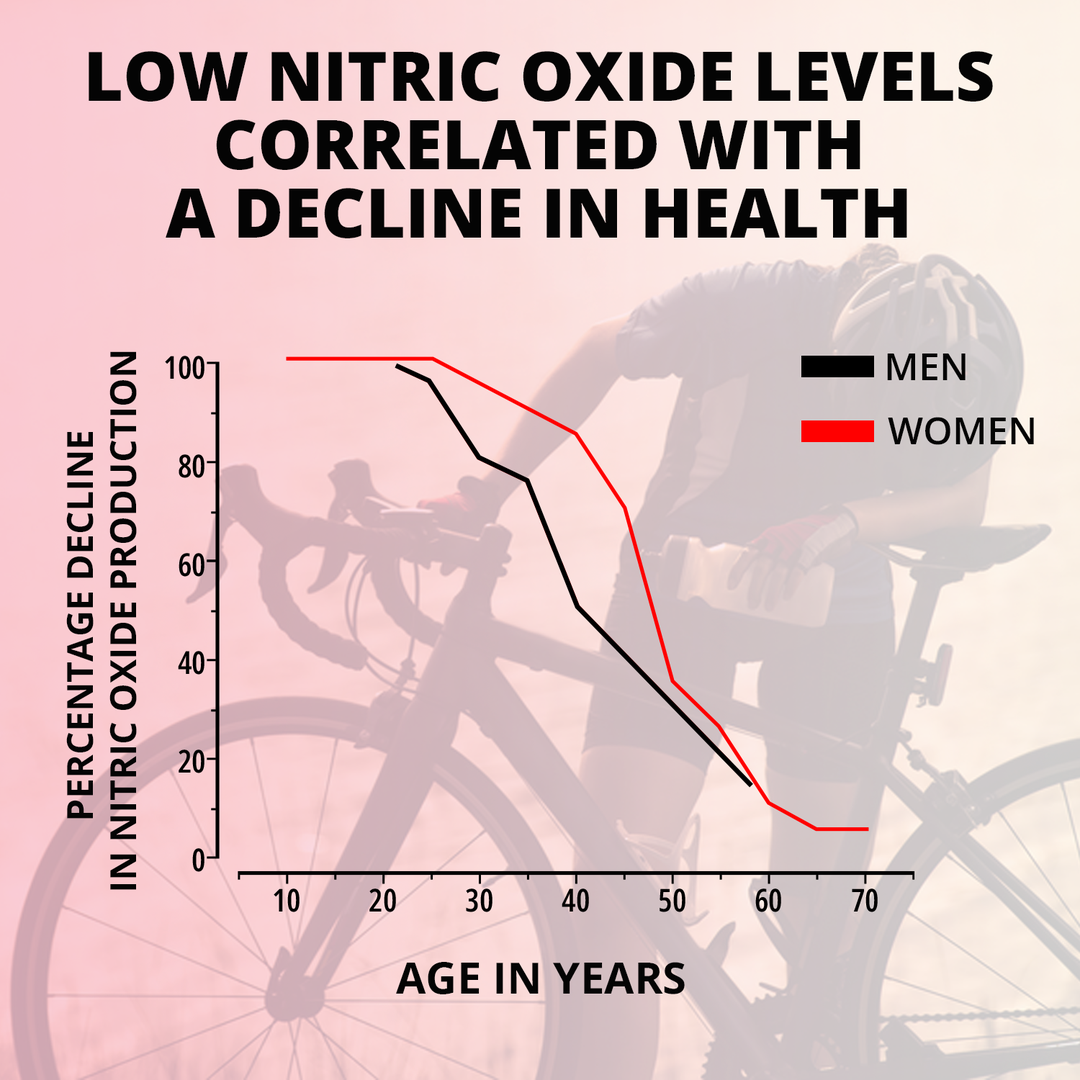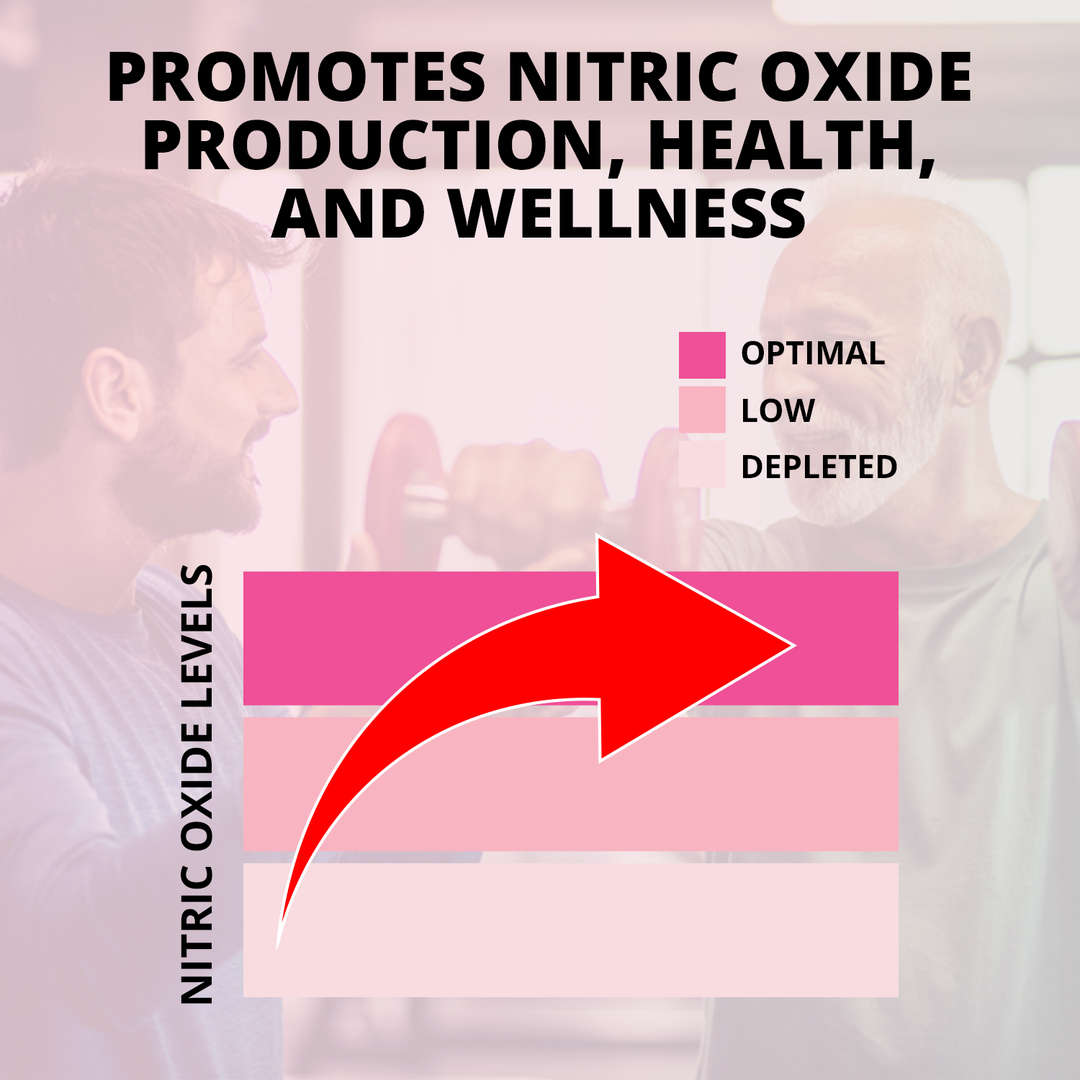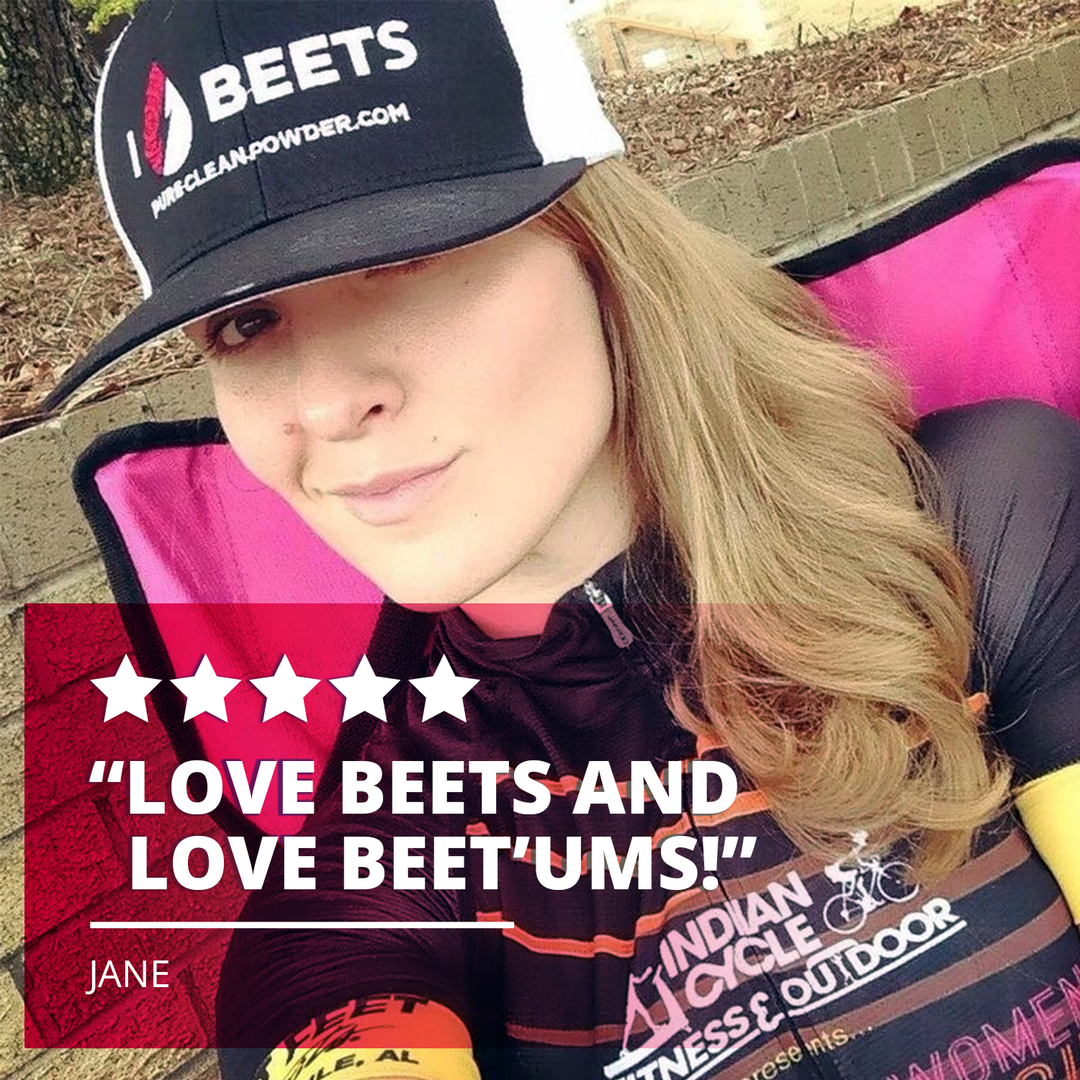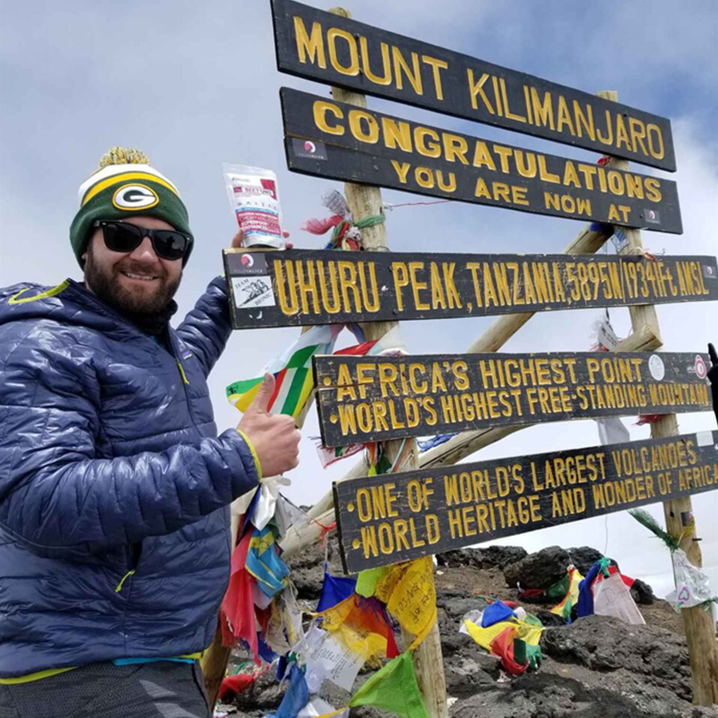 Buy 2 get 10% OFF with code: 10OFF2
Buy 3 get 15% OFF with code : 15OFF3
*one time purchase
Take your athletic performance, health and energy to new heights with BEET'UMS™ beet chews.




The world's first beet-infused performance chew (yes, it is!) combines nitric oxide-boosting organic beet juice power for athletic performance and blood flow, inflammation-fighting cocoa powder to speed recovery and support longevity, cocoa butter for joint health, and cognition-supporting pomegranate polyphenols.




Featuring also clinically-studied Careflow™ mango fruit extract for a happier heart, stronger metabolism, and more powerful cardiovascular system. Who knew a better you was just a chocolatey treat away?! It is a boost that "beets" them all!  🏆




PREMIUM BEETS | 0 CAFFEINE | MONEY BACK GUARANTEE

Nutrition Information & Ingredients

Endurance Activator Base: Organic Biobeets™ Fermented Beet Juice Powder, Organic Careflow Mango Fruit Powder, Cocoa powder with 15% polyphenols, Pomegranate Juice Powder




Superfood Infusion Base: Organic Cocoa Powder, Cocoa Butter, Organic Cocoa Mass




Premium Flavor Base: Tapioca Fiber Syrup, Organic Coconut Syrup, Organic Stevia, Pomegranate Oil

Database Of Proven Results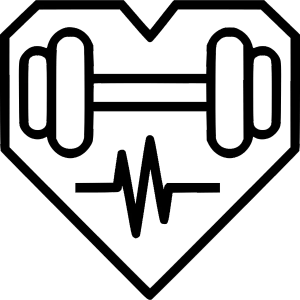 Beet Juice Nitric Oxide Boosted
Formulated with our potent nitric oxide boosting beet juice powder for greater endurance, strength, energy, stress-resilience, and cardiovascular health.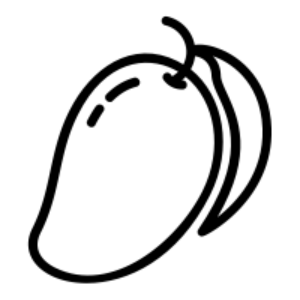 Careflow™ Mango Fruit Extract
Studies show Careflow™ Mango Powder to be beneficial for heart health, glucose metabolism, inflammation, and energy.
Premium Beet-Infused Performance Chews
+ Smart Intra-Cellular Oxygen Delivery 
- BEET'UMS™ is designed to dissolve in your mouth to extend nutrient uptake for (1) super boosting your body's production of nitric oxide and (2) elevating intra-cellular oxygen delivery for increased strength, cardiovascular benefits, and stamina.
+ Botanically & Superfood Enhanced
- Synergized with 9 nutrient-dense superfoods for supporting a wide variety of health, performance and fitness goals
+ 4X Nitric Oxide Boost Over Beet Juice
- BEET'UMS™ are made from high nitric oxide beets that are juiced, fermented, and then dried into a powder at low temperature. They provide four times stronger cardio-respiratory benefits than regular beets and work for two to four hours.
+ Excellent Flavor & Nutrition Combination
- BEET'UMS™ are manufactured for taste, consistency, and efficacy by professional chocolatiers. The combo of cocoa butter, cocoa flavonoids, and a pomegranate extract works magically together for a delicious health and performance boost, or snack.
+ Anywhere, Anytime Health and Fitness
- Each chew is individually packaged for both convenience and freshness. Take one or two before a workout, as a on-the-go snack, and when hiking, biking, swimming, or on a long-haul effort to replenish energy.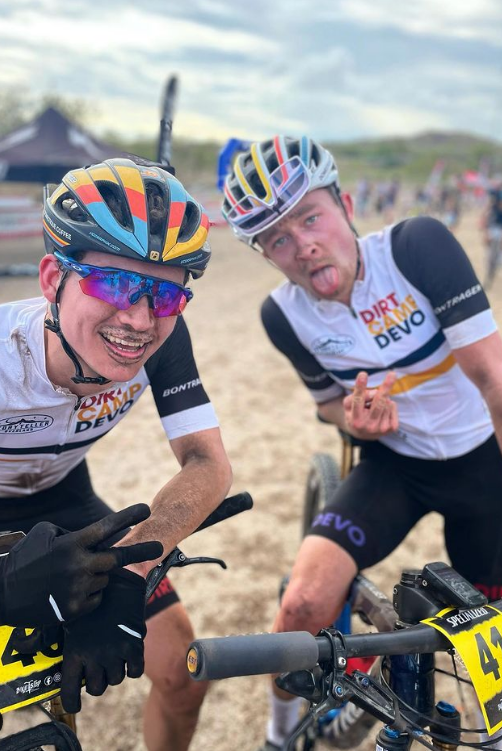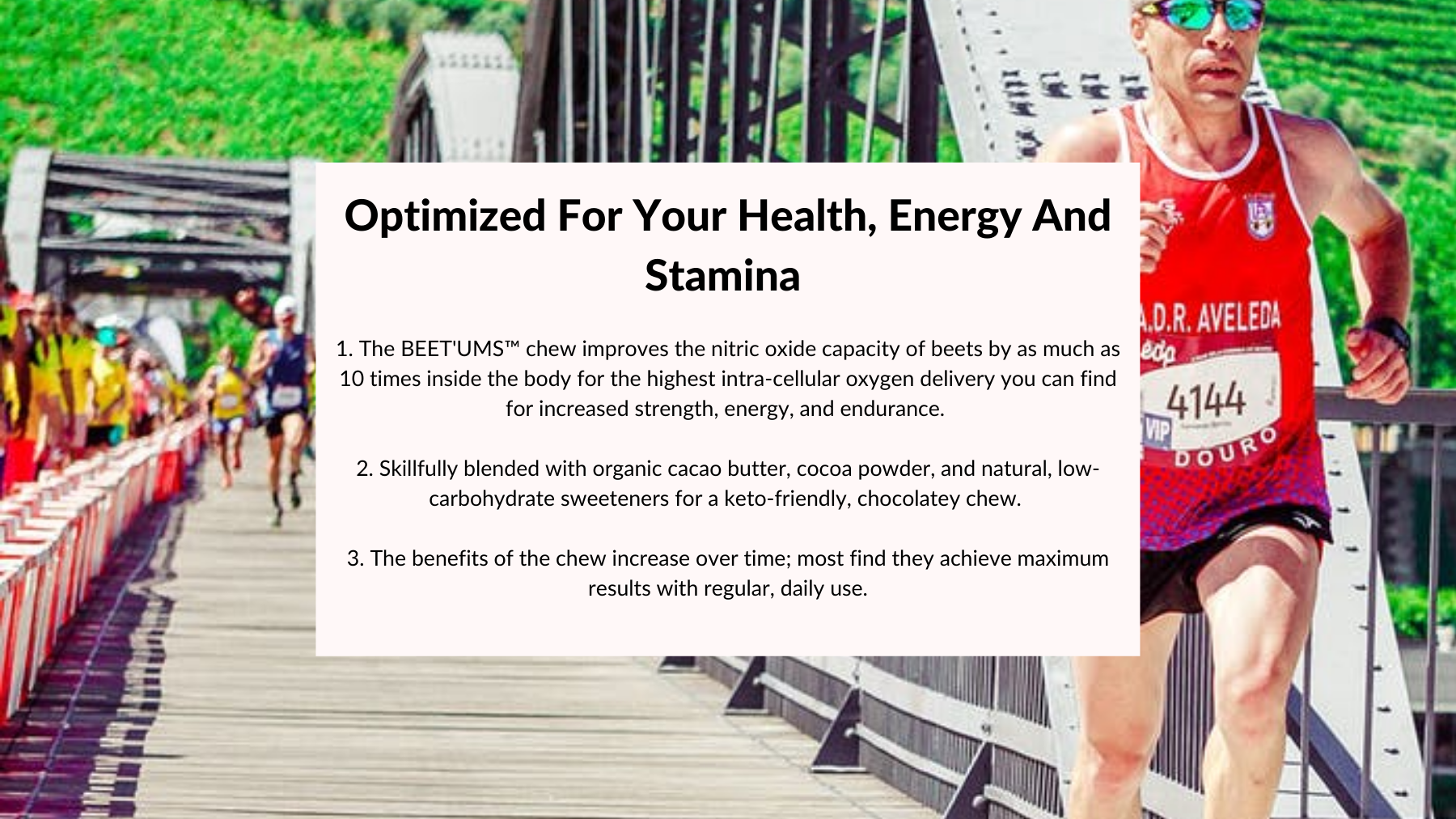 Optimized For Your Health, Energy And Stamina
1. The BEET'UMS™ chew improves the nitric oxide capacity of beets by as much as 10 times inside the body for the highest intra-cellular oxygen delivery you can find for increased strength, energy, and endurance.
2. Skillfully blended with organic cacao butter, cocoa powder, and natural, low-carbohydrate sweeteners for a keto-friendly, chocolatey chew.

3. The benefits of the chew increase over time; most find they achieve maximum results with regular, daily use.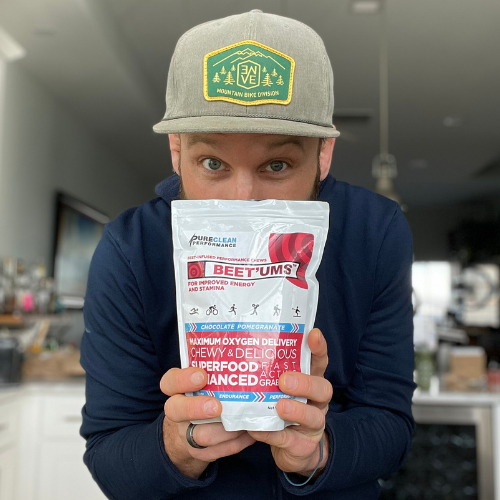 consistently a great product
love the convenience and performance boost of this beet product from PCP!
Thank you very much for the review!
i love the healthy boost
Never thought a good boost could be so healthy! I love this stuff!
BEETS
This helps me to get through my night at work at uspostal service processing plant. Beets help increase oxygen intake in your bloodstream at my age it helps fat beyond what you would imagine. It pumps up my endurance like you cannot be.
Wondeful, mean a lot, thanks, this is why we do what we do.
five stars
Best flavored beet formula on the market!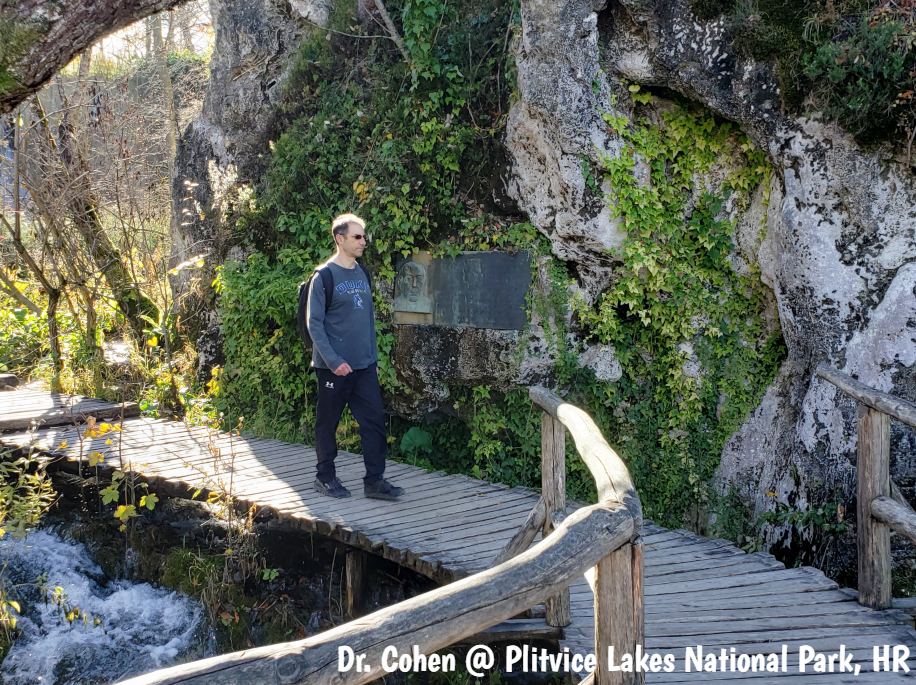 Why BEET'UMS™, Doc?
-I wanted to create a product that would supercharge the benefits beet juice powder in a delicious way with extra health and performance benefits. No mix or mess!🏆
-We use the highest possible nitrite content beet strains and put them through rigorous testing to ensure your getting the goods.
- All-natural, non-GMO, no caffeine, and gluten-free ingredients; no chemicals, pesticides, nor synthetic additives.
- BEET'UMS™ are a synergistic combination of premium fermented beet juice powder, cacao flavanols and a mango extract for all-angles endurance and health support.