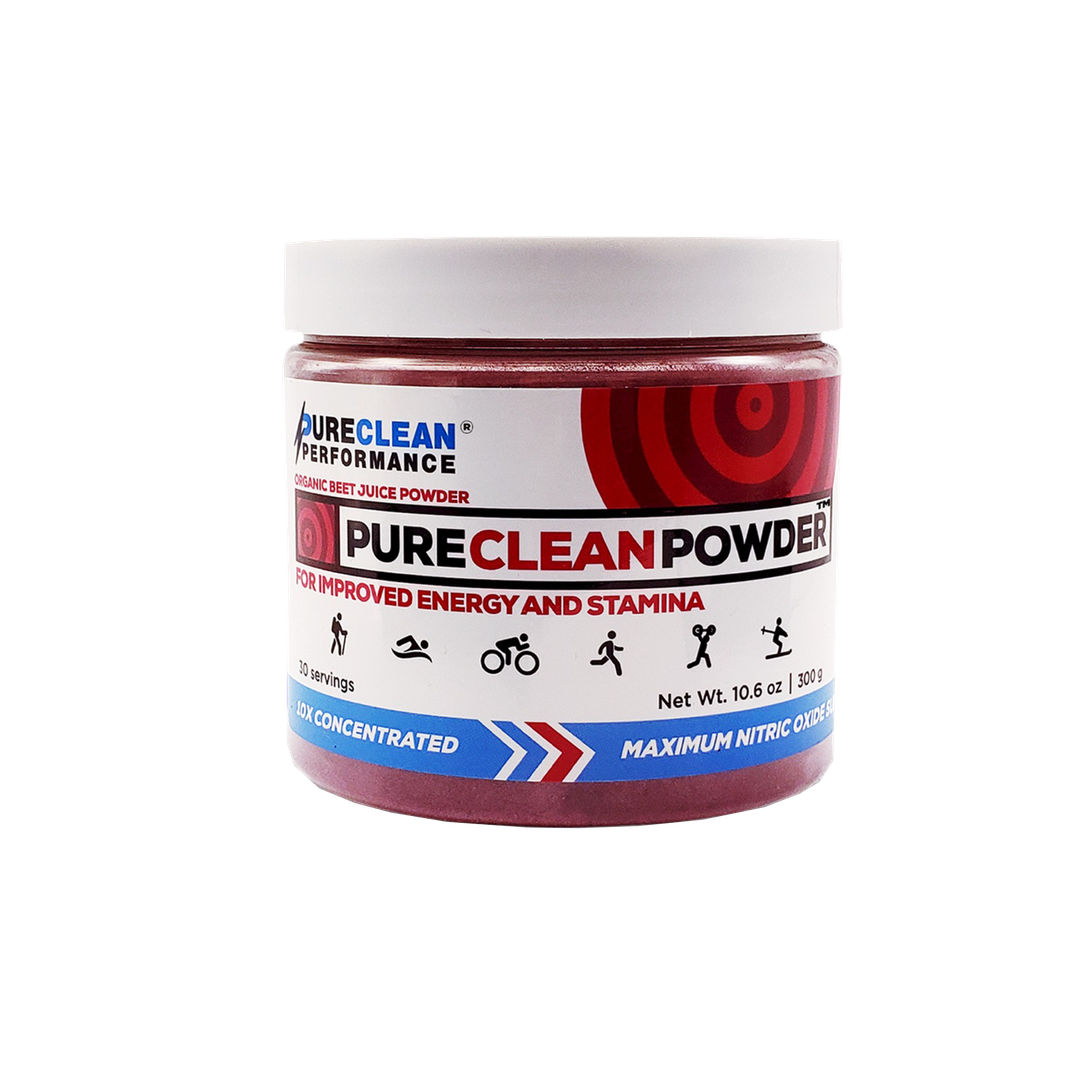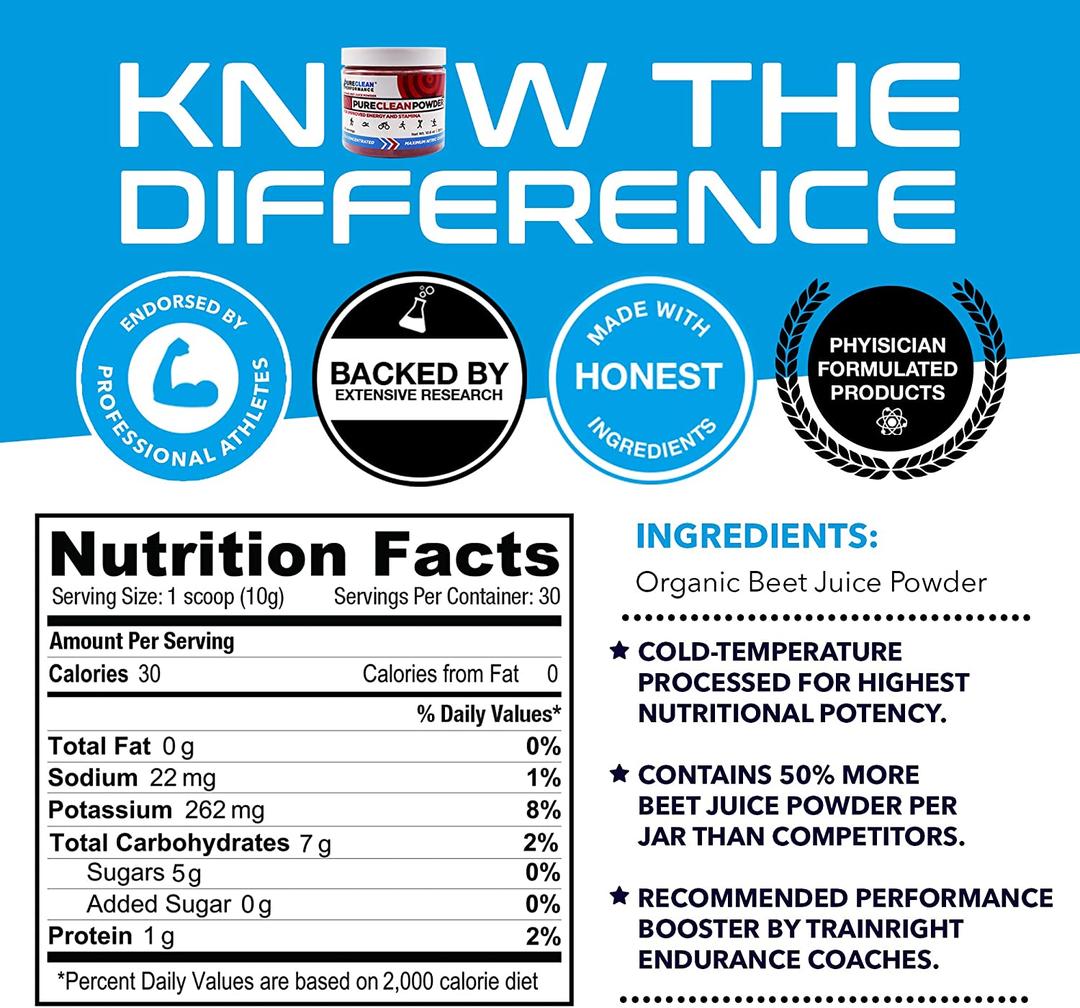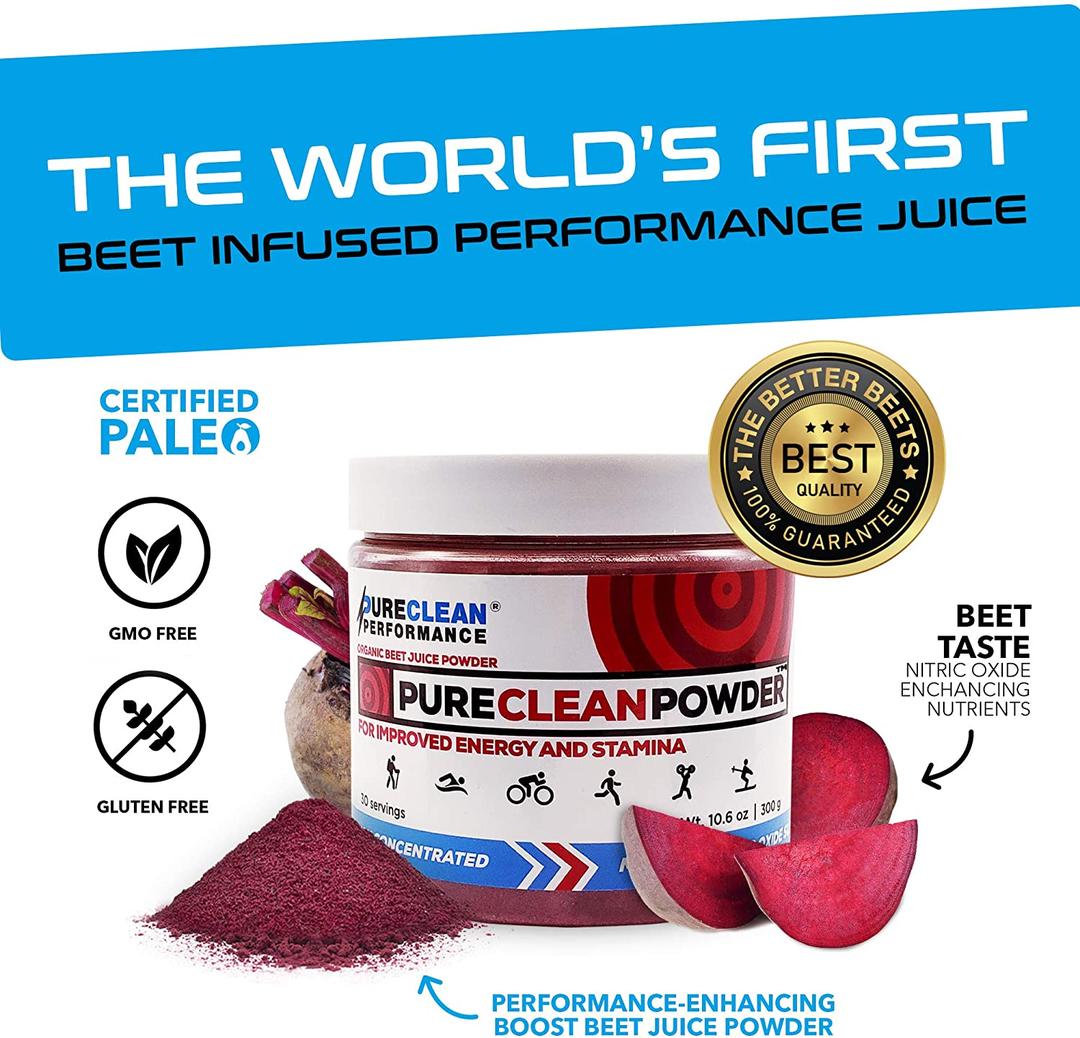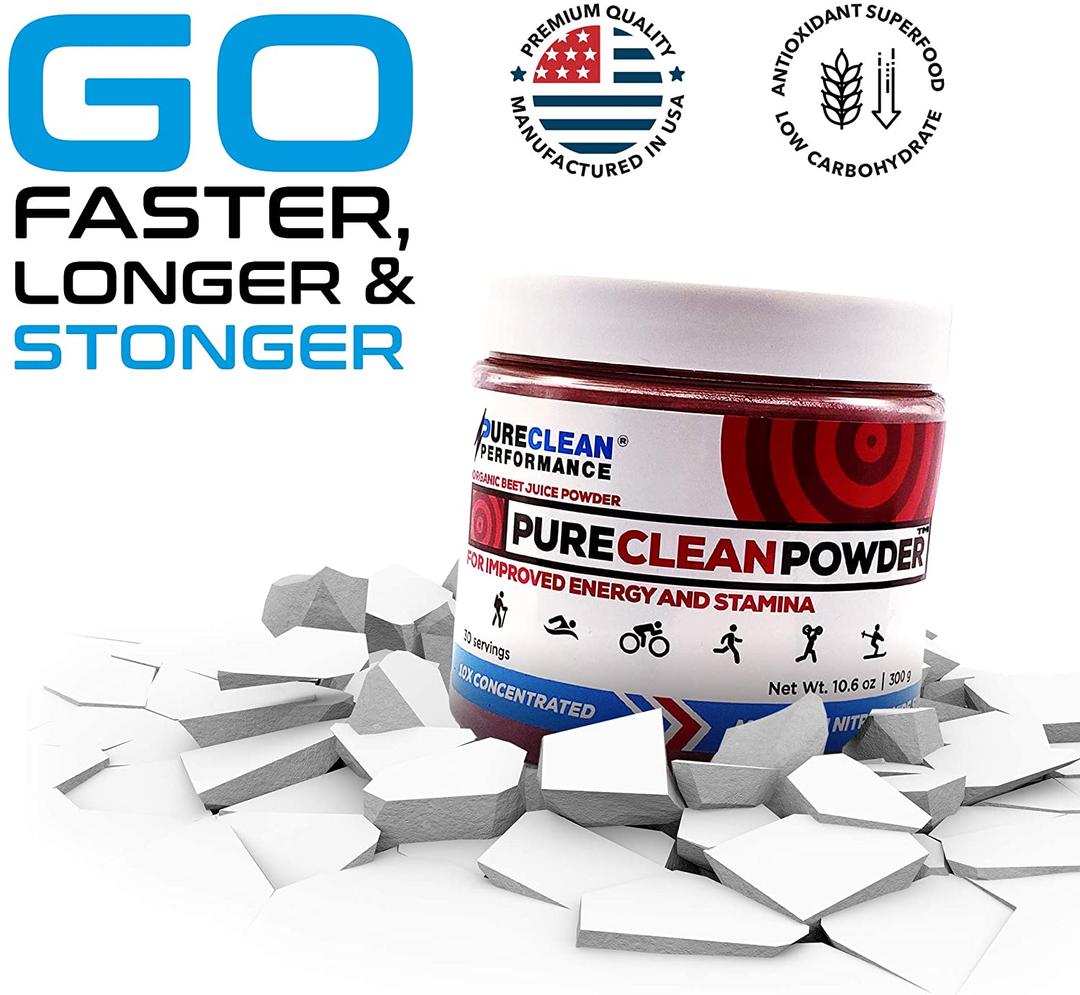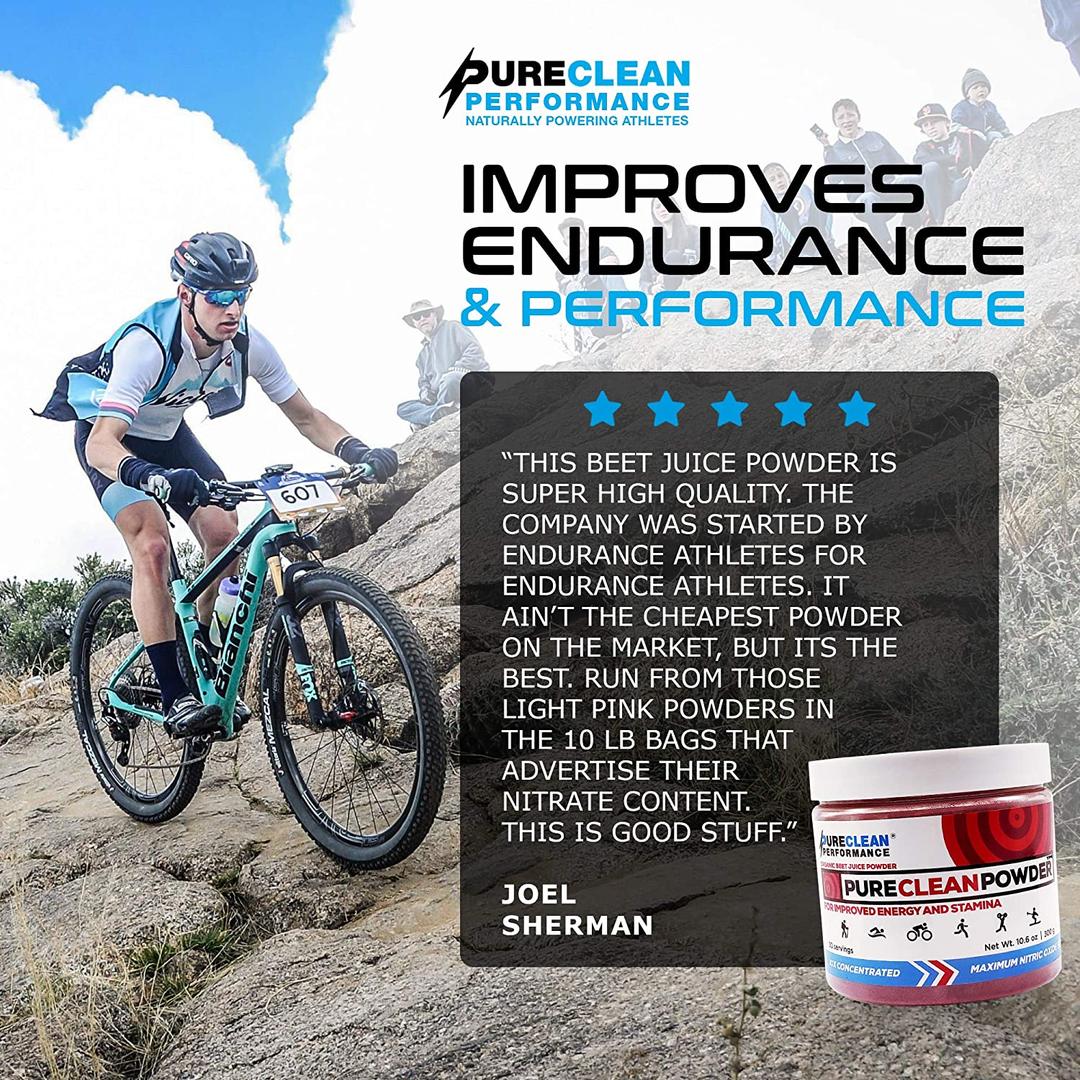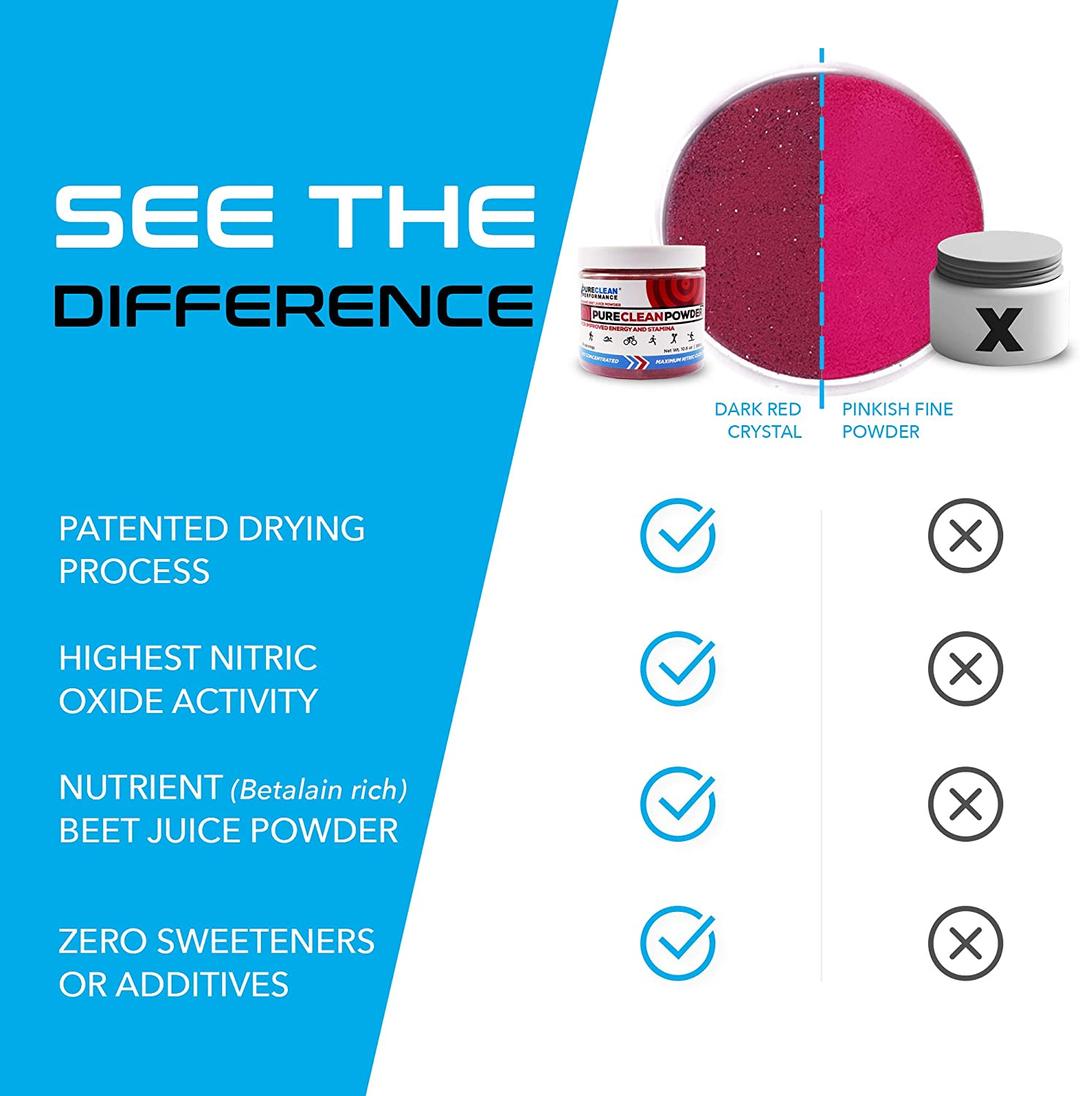 PURECLEAN POWDER™ - 100% Organic Beet Juice Powder
The Highest Quality Beet Juice Available!
Make Workouts Easier
Very Mild & Slightly Sweet Flavor
Endurance & Energy. No Extra Training Needed
Beets Officially Certified to Boost Performance
Minimize Uncomfortable, Exhausted Breathing
Blood Flow for Best Recovery, Strength, & Speed
This product comes with my 100% money back guarantee

The Highest Quality Beet Juice Available!
Make Workouts Easier
Very Mild & Slightly Sweet Flavor
Endurance & Energy. No Extra Training Needed
Beets Officially Certified to Boost Performance
Minimize Uncomfortable, Exhausted Breathing
Blood Flow for Best Recovery, Strength, & Speed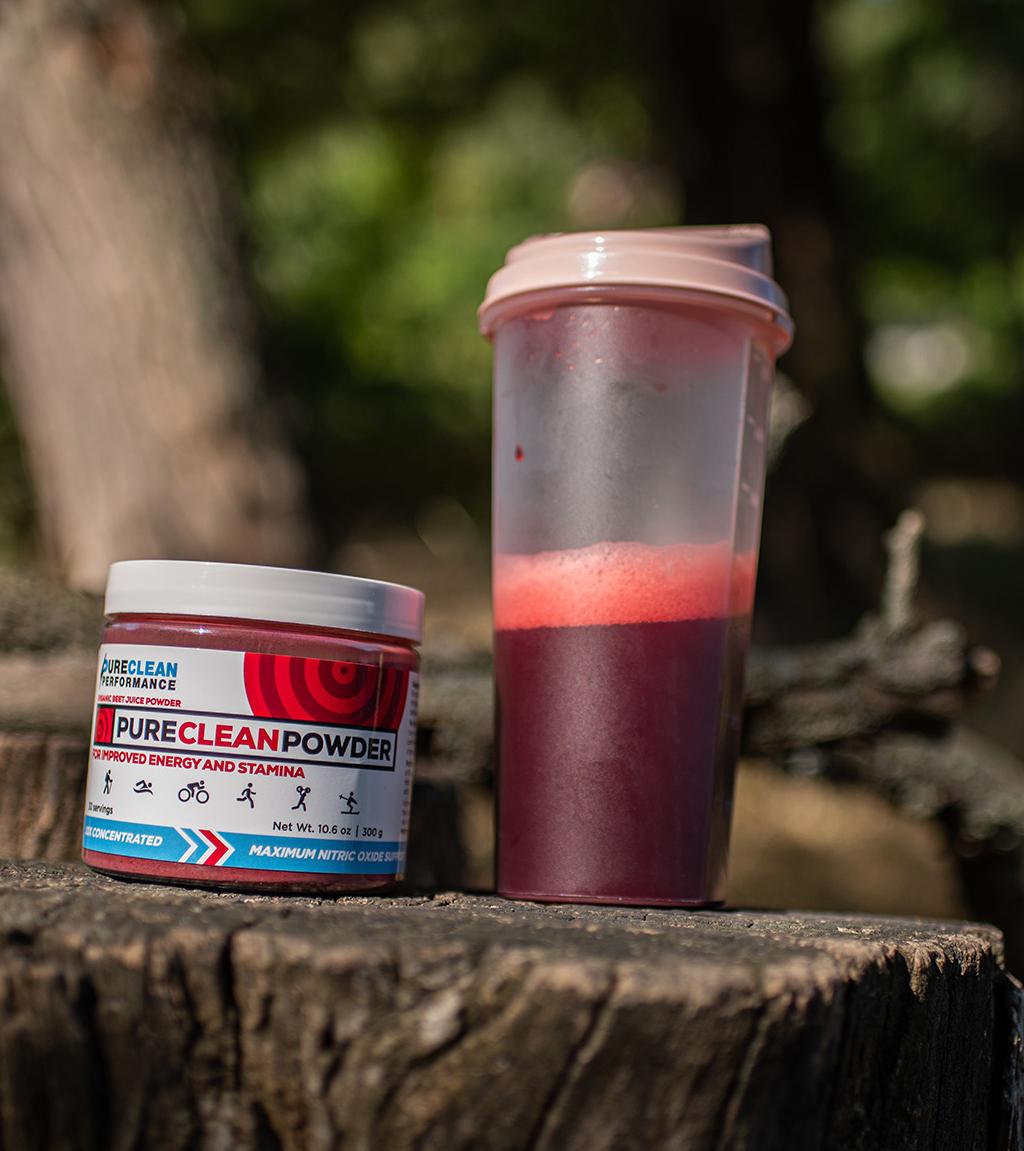 This Is Fitness In A Jar
ENHANCE BLOOD FLOW AND ENERGY PRODUCTION: along with greater physical and mental function. Regular use of beet juice powder actually improves your performance in everything, too!
REDUCE DEEP INFLAMMATION FOR ENHANCED RECOVERY: Regular use improves daily well-being, longevity, and nutritional status and aids in quick recovery from stressful activities.
STRENGTHEN YOUR CARDIOVASCULAR SYSTEM: PURECLEAN POWDER™ enhances your cardiovascular stamina, physical performance, adaptation to high altitude, and blood pressure health.
ELIMINATE TOXINS FROM YOUR DIET AND ENVIRONMENT: Drinking beet juice has even been reported to reduce and shorten a "hangover" from excess alcohol.
AN ENJOYABLE EXPERIENCE: We only use 100% beet juice powder which has a naturally fresh and sweet taste (no beetroot, plant powder)

The Best In The Beet Juice Business
THIRD PARTY TESTED FOR POTENCY: Only certain beets grown in nitrogen-rich soil can improve the body's ability to create nitric oxide, so most all beet juices and powders (even organic, locally-grown varieties) do not support high nitric oxide levels and improved sports performance.
MADE WITH PREMIUM-HEIRLOOM BEETS: Our beets are grown in beneficial, high-nutrient soil. They contain about thrice the nitric-oxide-enhancing nutrients found in ordinary, red beets and are concentrated 10X so one scoop equals about 5 average beets!
100% NUTRITION WITHOUT THE SUGAR: You get every beet nitric oxide nutrient and powerful betalains with 1/4 the sugars, carbohydrates, and calories! Each 10-gram serving contains only 33 calories and seven grams of carbohydrates.
VALUE FOR YOUR DOLLAR: Each 30 serving canister contains 300 grams of premium low-temperature processed beet juice powder. That is almost 50% more beet powder than the leading competitor.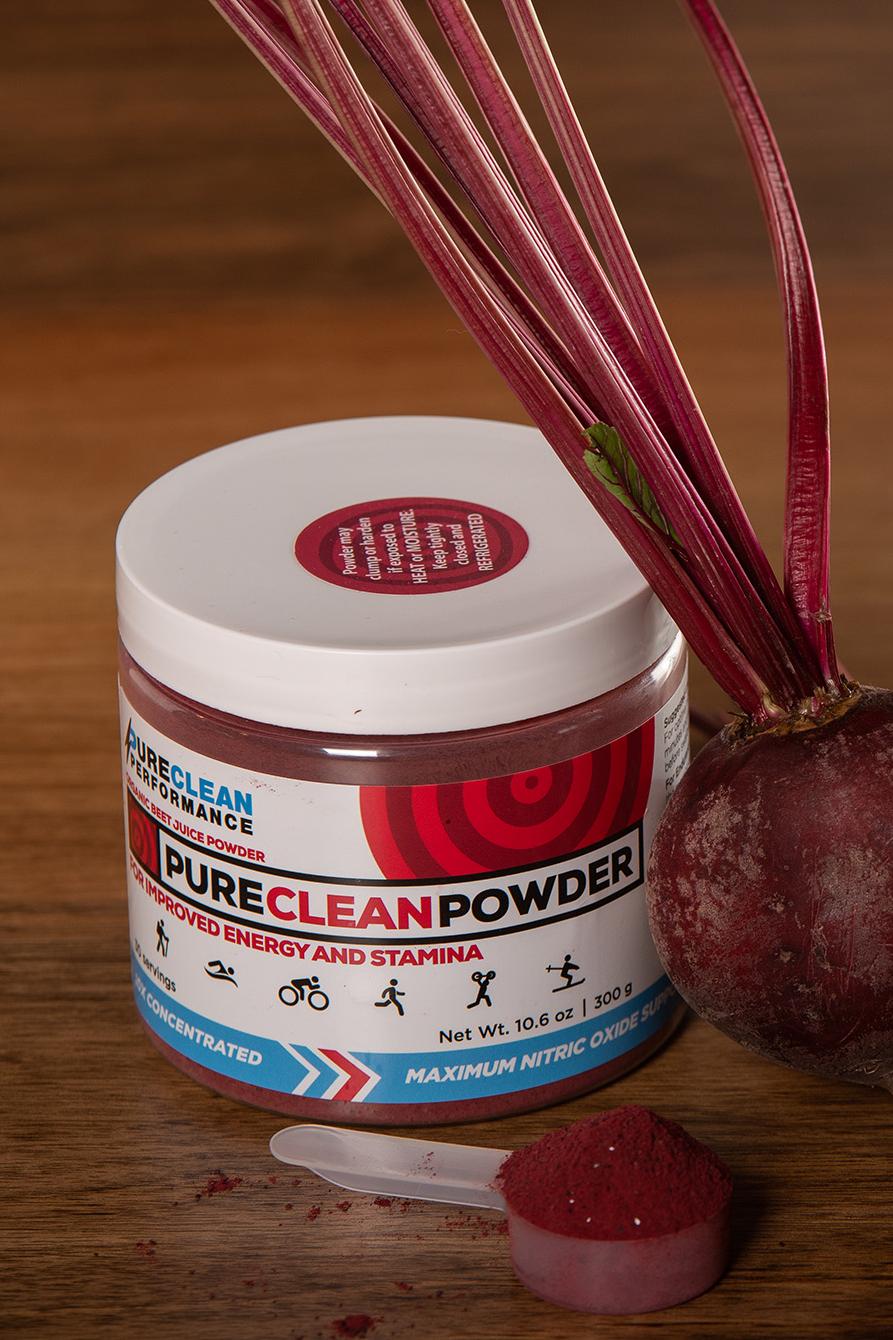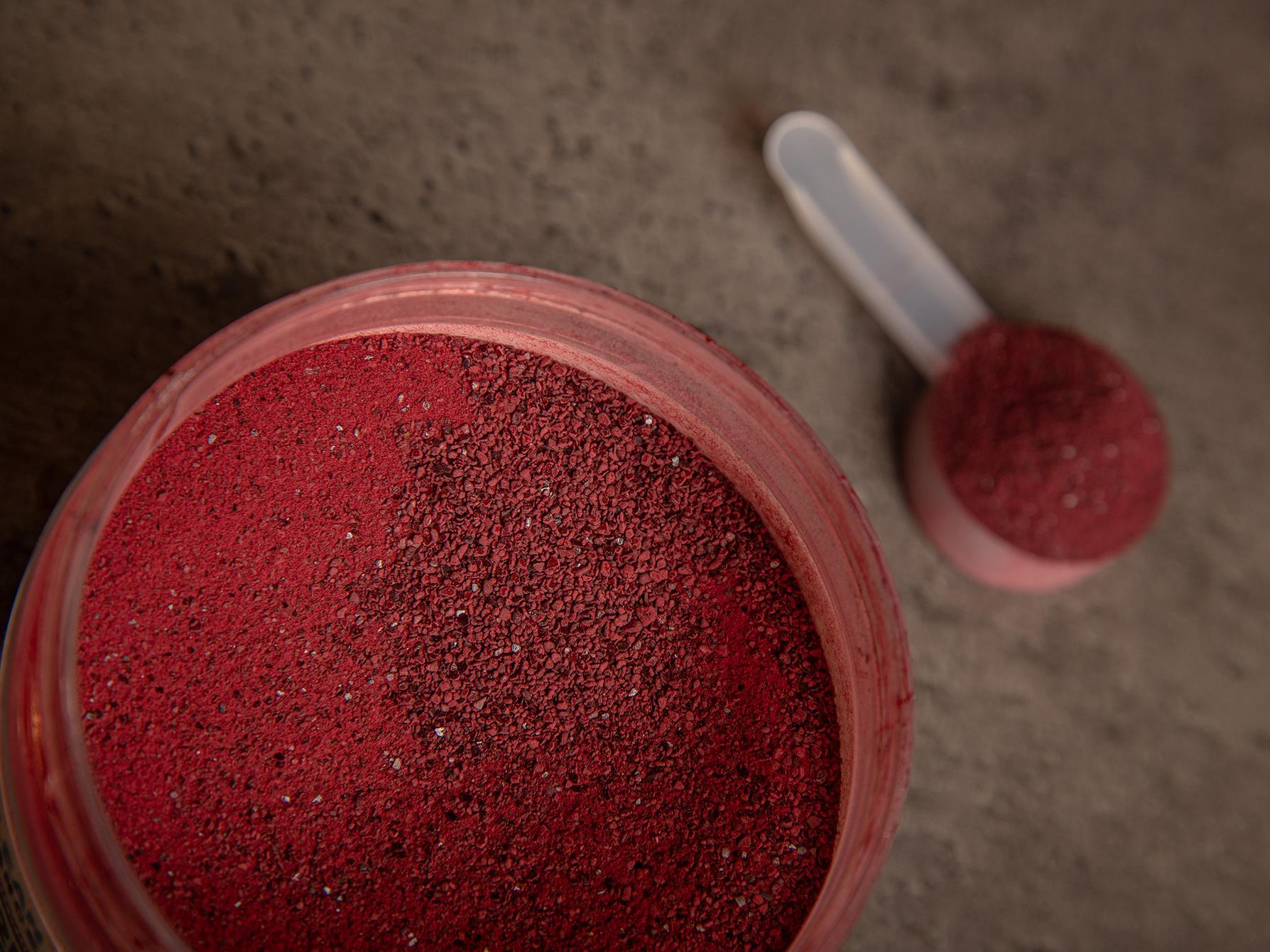 Sweet. Fresh. Clean. Mild.
Try These Up-Beet Recipes
1. The Classic: Dilute with water and tart fruit juice (like pomegranate or cranberry) or try sparkling water or cider. Use a small amount of flavored stevia for sweetness
2. The Progressive: Make a beet latte as a morning coffee alternative. Mix one scoop PURECLEAN POWDER™️ with 8 to 12oz hot coconut milk and honey to taste.
3. The Beet Lover: To boost nutrition and flavor, add PURECLEAN POWDER™ to smoothies, soups, and bakes! Anyone for chocolate brownies or molten lava cake?

What makes PURECLEAN POWDER™ special?

We select for the highest possible nitrite content beet varieties and put them through rigorous testing to ensure your getting the goods. The premium-quality, nutrient-rich, heirloom beets inside every serving are juiced, fermented, and then dried at low temp for maximum potency.

Our unique and proprietary production process results in a beet juice powder with THREE TIMES the nitric-oxide-boosting power of ordinary beets! You know you are getting the highest-quality beet juice powder if it looks dark, red and crystalline.

You never will feel like your supplements are cheating you when you are with PureClean Performance! Rest assured you are getting the highest possible integrity and quality you can find.




We are here for you: 888-371-1033.

When and how should I use PURECLEAN POWDER™?

Mix 1/2 to 1 scoop into 4 to 6 ounces of water and drink right away (within 15 mins). Dose twice daily; once in the morning and once later in the evening for max results. For a stronger or more rapid effect, take as much as two scoops daily. To enhance physical function, take 60 minutes prior to the activity.

Note: For best results, swish the beet juice in your mouth for 30 seconds before swallowing. This allows the beet nutrients to be activated by the healthy bacteria in the mouth for more nitric oxide benefits.


How can you compare beet nitrates in this powder vs the other beet products?

We use Dr. Andrew Jones' Oxford studies on beet juice and athletic performance as a guideline for nitrate content. If you bought fresh beets at the market and juiced them yourself, you would have no idea about nitrate content. We do not add synthetic nitrates (not good) or other artificial ingredients. The high-quality nitrates in PURECLEAN POWDER™ are pure, natural and organic. That's why we are the best!


You're saying beets from the supermarket won't help?

Eating and juicing your own beets is certainly good for you; but, if you want maximum performance and health enhancing benefits here's why just any old beet won't work:




1. Their nutrient density can vary greatly based on their size.




2. The way most all beets are grown and processed can eliminate all of their performance enhancing benefits.




3. Most all beet-varieties are not selected for their high-nitrate content which is the key ingredient for maximizing your health and performance.

How long until I notice the natural benefits?

Beets are not a stimulant but a superfood that nourishes your body overtime to enhance stamina. Depending on your genetic makeup, current physical and mental stress, and state of health, it may take two to six weeks before you notice any benefits. Because of this, we highly recommend you commit to using one scoop daily for at least 30 days before deciding if it works or not.




However, many notice a pick-up of mental and physical energy about 60 minutes after consuming beet powder. Anyway you choose, stick with it because only over long periods of time will you reap the rewards of enhanced detoxification, reduced inflammation, improved physical function, and a healthier life.

How can I notice the effects quicker?

Optimize Your Diet: Use PURECLEAN POWDER™️ on a daily basis and eat plenty of nitrate-rich foods like kale, arugula, spinach, celery, pomegranate, berries, and dark chocolate.

To Boost Endurance & Performance: Drink in the morning and then take 1 to 2 BEET'UMS™️ 30 minutes prior to physical activity.

To Boost Strength & Recovery: Combine with 1-2 scoops of FUNDAMINOS™️ in the morning and/or directly after physical activity.


When it says "product of usa" does that mean grown here or only packaged here? Where are the beets grown?

Yes! The beets are grown here in the US, dehydrated in the US, and also packaged in the US.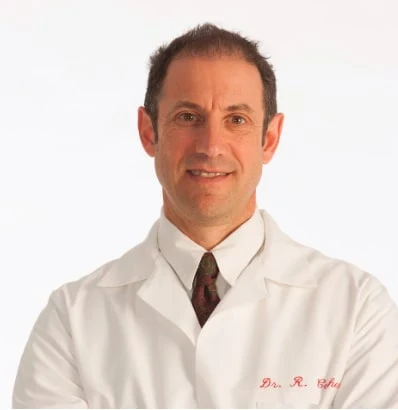 Clinically Proven, Physician Formulated
Hi, I'm Dr. Rick, CEO and creator of PureClean Performance.

My specialties are nutrition science, medicine and sports performance. Along with my team, I've developed a number of cutting-edge treatment programs and all natural products. I have been trusted for over 20 years to help my patients enhance their sports performance as well as eliminate a variety of health problems.

Join the thousands we've helped with our proven, cutting-edge and all-natural health and performance products and solutions. What are you waiting for?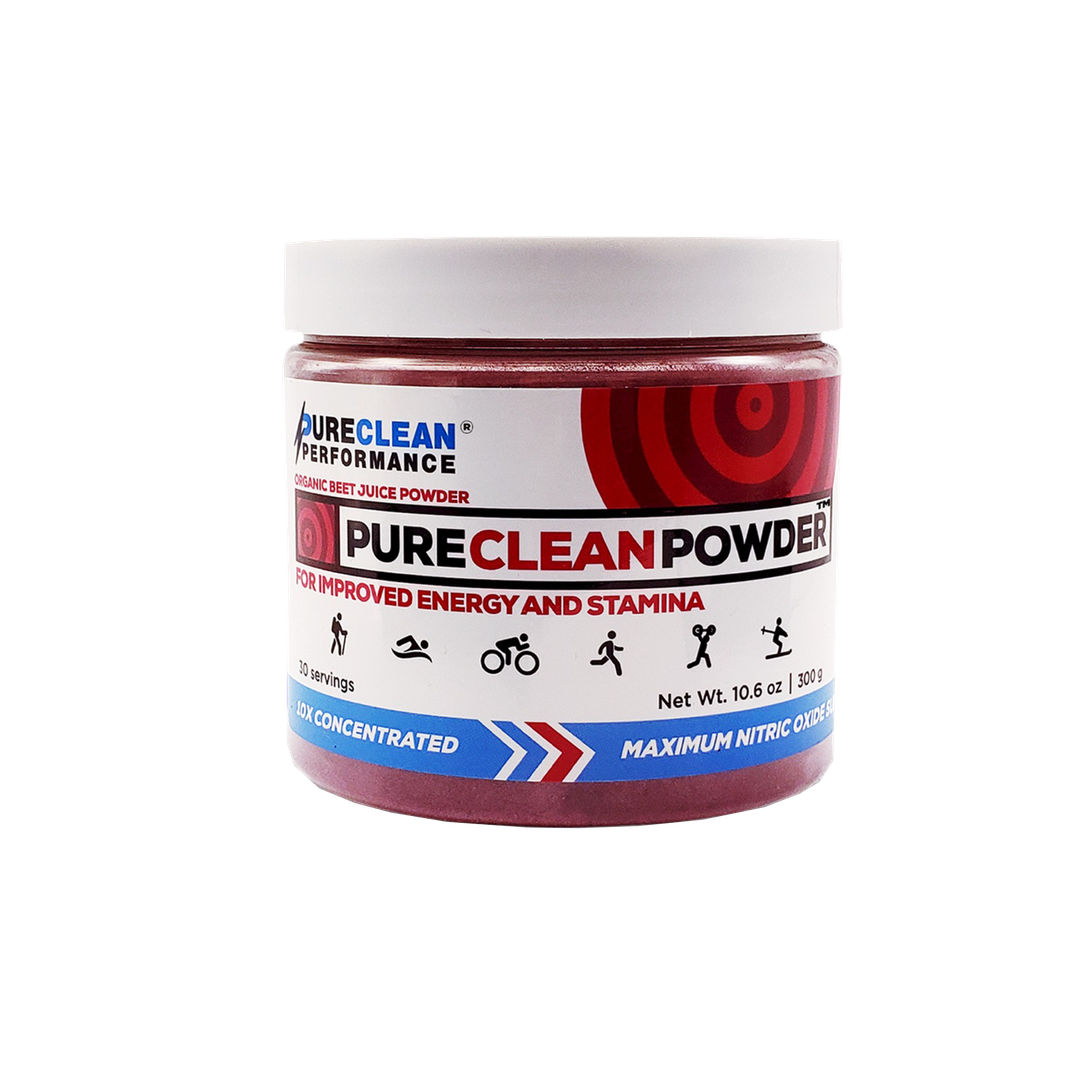 PURECLEAN POWDER™ - 100% Organic Beet Juice Powder
100% Money Back Guarantee