How Likely Are You to Get Sick? (Quiz)
Answer all the questions below to discover how likely you are to not only get sick, but also burnout and/or become overtrained. 
Interested in learning more?
Become better acquainted with your immune system after the quiz and then download (for free!) Dr. Cohen's Immune Defense Protocol >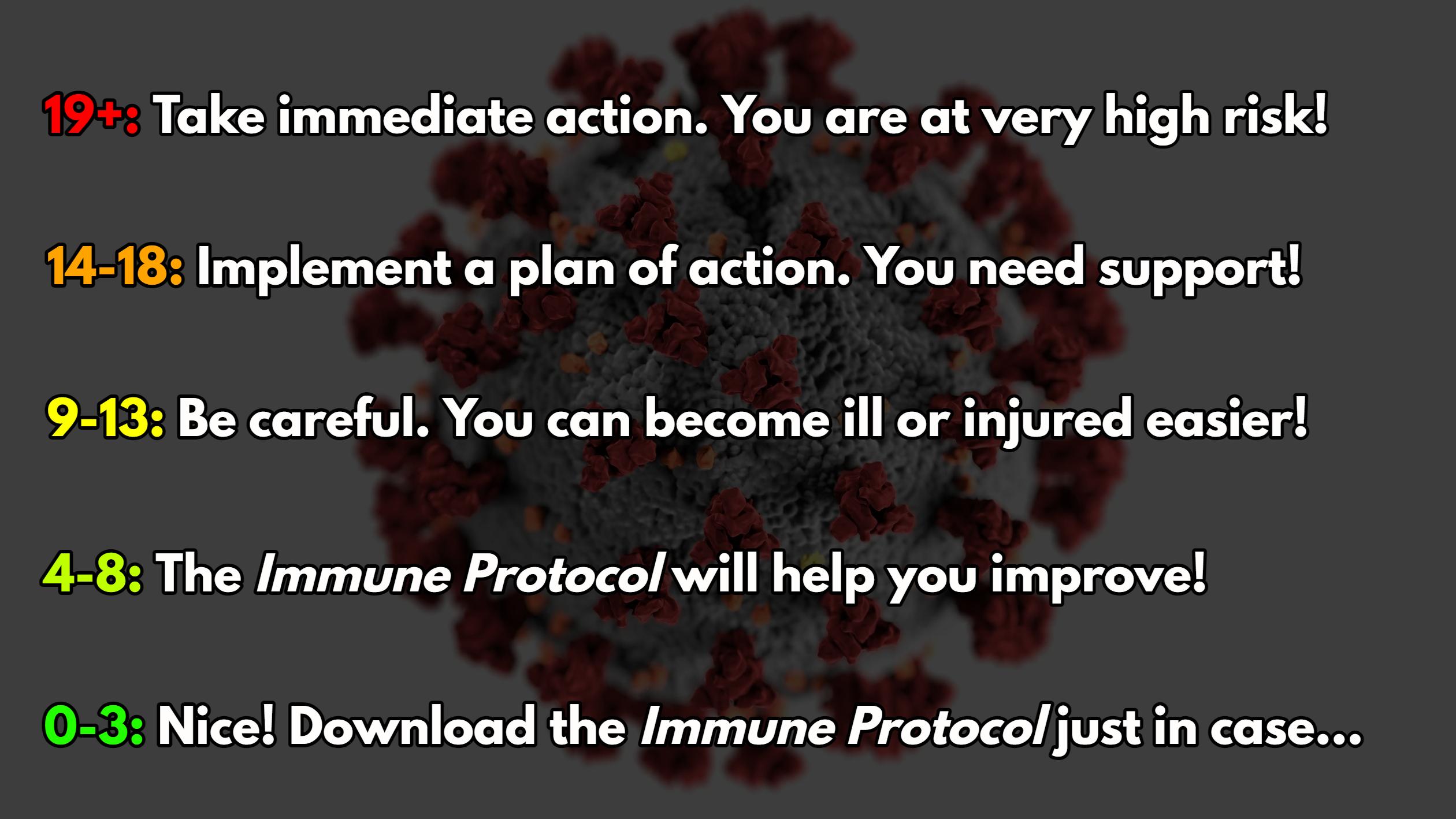 Score: 3 or less
Sounds like your immune system is doing alright! 

Score: 4 to 8
Hmm. You might benefit from some immune system support. 

Score: 9 to 13
Be careful. You're at a greater risk for becoming ill—or injured. 
Score: 14 to 18
Implement a plan of action. Your immune system needs support.  

Score: 19 or more
Take immediate action. The health of your immune system is at risk. 
Ever wonder about how your immune system works?
Evaluating the strength of your immune system can be a bit complicated because it's composed of many moving parts.
Do you—or someone you know—get sick more often than others? The biggest red flag signaling a weakened immune system is frequent illness. Poor immunity can leave your body unprotected from harmful germs, viruses and fungi.
The Innate Immune System
Your innate immune system is the first line of defense against many infections and includes the skin, the inner linings of both the digestive and respiratory systems, scavenger cells (like macrophages and neutrophils) and plasma proteins. But the innate immune system does not always work to control an infection. This is where the adaptive immune system comes into play.
The Adaptive Immune System
The adaptive immune system is composed of blood cells called lymphocytes. They provide a more specific and targeted immune response against an infection. There are two different kinds of lymphocytes—B cells and T cells. B cells make antibodies that protect against invaders at mucosal surfaces such as the sinuses, lungs, and gastrointestinal tracts. T cells help B cells and can also kill infected cells. The adaptive immune system also has a memory. This means that it can remember germs that it has successfully battled in the past. This is why once you have recovered from an infection, you are less likely to develop the same infection again.
Is Your Immune System Working Normally?
This can be a tricky question to answer. Even if laboratory testing shows that your system is normal, this doesn't necessarily tell the whole story. We can measure the levels of different immune cells and even their function. But this only helps us to confirm or exclude an actual immune deficiency. Other things—especially nutrition and lifestyle choices—play a key role in either boosting or lowering any given individual's immune status.
How Strong is Your Immune System?

Take this brief quiz, which can give you some general insights into how strong your immune system is—or isn't.
Can You Improve Your Immune System?
The short answer is yes! There are a variety of steps you can take to support your immune health. And you can go here to view Dr. Cohen's specific recommendations.
Jackie Cruickshank Cohen


In addition to a professional background that includes 27 years as a health writer and educator, Jackie has more than a decade of experience working under the direction of functional medicine specialists as a health and wellness coach. Prior to receiving a national board certification, she studied with the Primal Health Coach Institute, Precision Nutrition, ph360, True Cellular Detox, and Elite HRV. Jackie is an elite master's multi-sport athlete.