Beet root powder vs. Beet root juice powder. Everyone who drinks beets must read this!
Beet root powder is dried beet roots. Beet root juice powder is juiced beets. Beet root powder is less effective than beet root juice (NOTICE THE LITTLE EXTRA WORD JUICE) because beet root JUICE is more concentrated and healthy. Beet root powder (NOTICE HOW THIS PRODUCT DOES NOT HAVE THE WORD JUICE?) is cheaper and actually sometimes the same price but super way down inferior of a product.
PLEASE for the love of god do not be fooled; beet root powder is a lower quality and less effective product versus beet root juice. Once again, beet root powder and beet root juice powder are NOT the same things. Beet root powder is crushed beets; you can't fit as many in the jar because the are just ground up and stuff in the jar. Beet root juice powder is juiced and then dried which allows more nutrients and thus beets to fit inside the jar so you get a better price per serving despite the price of beet root juice being sometimes slightly higher.
CONCLUSION: ONLY BUY BEET ROOT JUICE POWDER and skip the beet root powder if you are looking for valuable effects for your health and wellness. Beet root powder prices similar as beet root juice powder is a scam and don't trust that company. Beet root powder should be dirt cheap as it is dirt cheap (may even contain some dirt too) and fewer beets to make the same volume of product vs. beet root JUICE! powder.
YOU GOTTA LOOK FOR THE JUICE! End of story.
Still confused? Try reading a bit more below!
Beet root juice powder and beet root powder are both popular health supplements known for their numerous benefits. While both variations offer advantages, there are several reasons why beet root juice powder is considered superior to beet root powder.
Firstly, beet root juice powder is derived from the liquid obtained by juicing fresh beets. This process ensures that the powder contains a concentrated amount of essential nutrients and antioxidants present in beets. On the other hand, beet root powder is made from dried and ground whole beets which may result in the loss of some nutrient content during the manufacturing process and fewer space to fit them in the jar per gram.
In terms of nutritional value, beet root juice powder contains a higher concentration of key nutrients. These nutrients play important roles in supporting overall health, including immune function, cardiovascular health, and antioxidant defense.
Furthermore, beet root juice powder is often preferred by athletes and fitness enthusiasts due to its potential performance-enhancing properties. Studies have indicated that the nitrates found in beet root juice can improve exercise endurance, boost blood flow, and enhance oxygen utilization in the body, ultimately leading to enhanced athletic performance. Beet root powder is popular for cooking substitutes and coloring projects; it's very weak for health benefits and a waste of money to be bunt.
Lastly, the convenience and ease of absorption make beet root juice powder a favorable option for individuals. The process of juicing also removes the fibrous components present in whole beets, making it easier for the body to digest and absorb the nutrients in beet root juice powder.
In conclusion, while both beet root juice powder and beet root powder have their own benefits, the former outshines the latter in several aspects. Its superior nutrient concentration, versatility, and potential performance-enhancing qualities make it a preferable choice for many health-conscious individuals.
Still confused of which beet product to drink? Shoot us a message, please.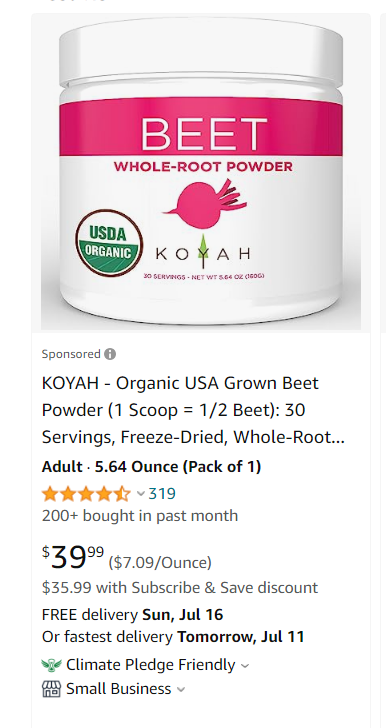 Example. Seriously?
On the left we have beetroot powder and on the right we have beetroot juice powder. The only explanation for beetroot powder being same price as a JUICED product is that the beetroot juice powder company knows you don't know the difference between beetroot JUICE powder and whole-root powder. Think the other one is a good buy? What does 20:1 concentrate even mean? I don't know but it sounds good. 20X stronger than beetroot powder? That could work but so are other beet juice powders then and this is no competitive advantage. Welcome to the world of dirty marketing and capitalizing on misinformation and clueless buyers, like those that used to be you, but hopefully now not you since you read this article all the way!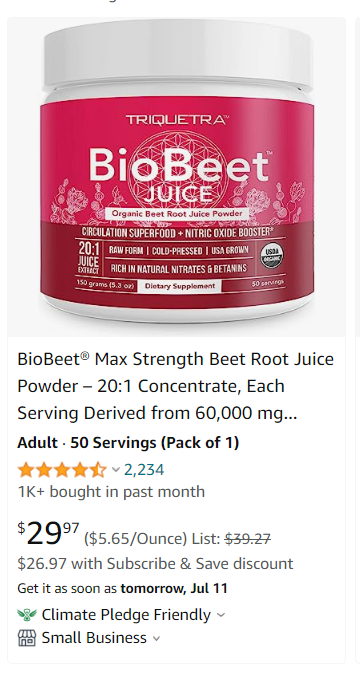 The problem? Anyone can make a damn supplement line!
To survive in the supplement world as a customer, you need to buy a trusted brand with repeat customers, not a cheap product with lots of reviews from people that simply infers an illusion of trust. Ask yourself if you have yet to experience what real quality and value is.
Thank you for listening to our educational beet juice rant, have a nice day!