High Protein Recipes (Easy, Kitchen)

Featured Recipe: protein-boosted chocolate chip cookies!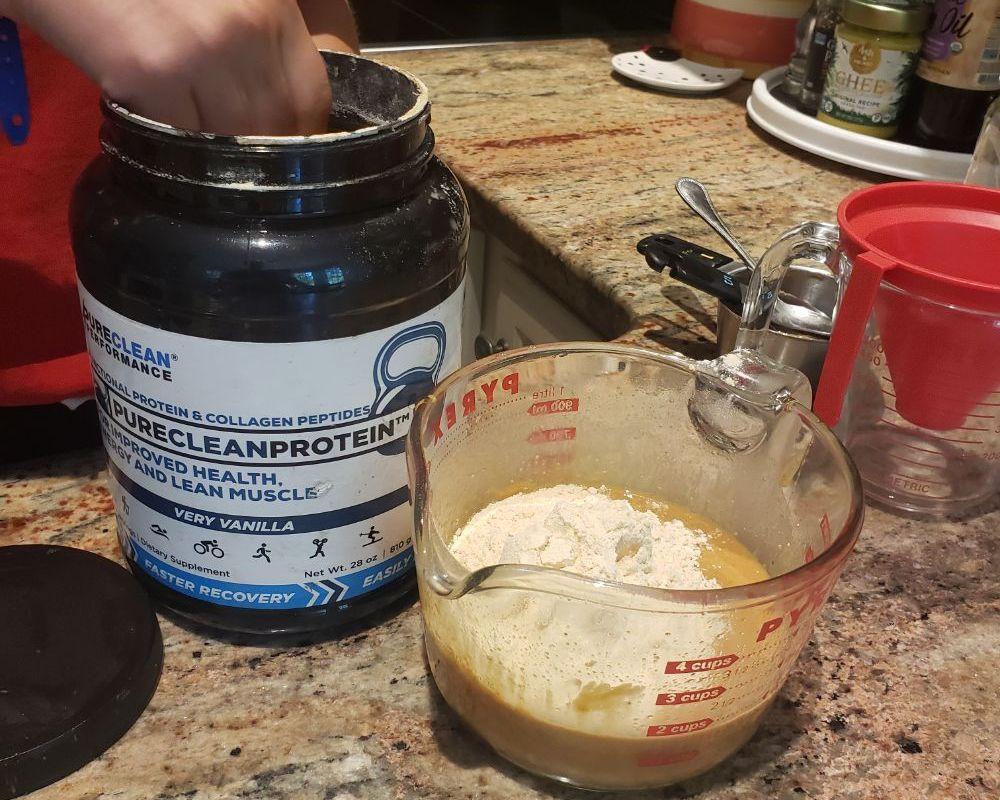 Ingredients: 1 cup tahini or nut butter. 1/3 cup ghee, butter, or coconut oil melted. 2 tablespoons honey. 1/2 cup PURECLEAN PROTEIN™  Vanilla. 1/4 cup coconut flour. 1/2 cup flour (we recommend 1/4 cup sorghum flour and 1/4 cup oat flour, but you can adapt to your preference). 1 tbsp. of xanthan gum. 3/4 tsp. baking soda. 1/2 cup chocolate chips.  A pinch of salt. 
*note: if using Unflavored PURECLEAN PROTEIN™, add an additional 2 tablespoons of honey (1/4 cup total) and 1 tsp vanilla extract.
Directions: Add tahini, melted ghee, and honey to a medium-sized mixing bowl. Stir to combine, then add all remaining ingredients except chocolate chips. Mix well. Dough will be sticky but it should be able to form a ball. Stir in chocolate chips. Shape dough into small balls and place 1 inch apart on a cookie tray. Bake at 350 for 8 minutes.

Try these protein boosting recipes, too!
Hot Cocoa Wake Up Smoothie: 
1 scoop of PURECLEAN PROTEIN™, Unflavored. 
1 scoop of PURECLEAN PROTEIN™, Vanilla. 
1 scoop of CHOCOBERRY BLAST™.
1 scoop of organic cocoa powder. 
1 tbsp healthy fat (i.e. nut butter, avocado, MCT).
Heated flax, coconut or cashew milk and water in amount for desired consistency. 
Blend all at once, pour, and enjoy!
Muscle Building/Meal Replacement Pudding:
1 scoop PURECLEAN PROTEIN™.
1 scoop CHOCOBERRY BLAST™.
1 to 2 big teaspoons of your favorite nut butter.
1 to 2 big teaspoons of dairy-free yoghurt, cottage cheese, or cream cheese.
Mix all ingredients together in a medium sized bowl until a pudding-like consistency is achieved. You can also use banana or applesauce instead of yoghurt and throw in some cocoa powder for extra chocolatey goodness! Adjust portion sizes as needed based on hunger. 
Protein Packed, Fat Bomb Coffee Late:
1 scoop UNBEETABREW™ Beet-Infused Performance Coffee.
1 scoop of PURECLEAN PROTEIN™, Vanilla. 
6 oz water.
2 oz oat milk or heavy cream.
1-2 tbsp coconut oil (this is good to add in if hungry).
Cocoa powder and/or chocolate stevia, to taste.
Heat the water and then pour the oat milk into the blender. Once the water is heated, put all the other ingredients into the blender on top of the water. Blend quickly then pour into a medium to large sized mug. Enjoy! 
Protein Bars:
1 to 2 cups peanut butter (depending on how thick you like it or how hungry you are)
1 cup unsweetened protein powder (can also use vanilla flavor, too!)
1/4 cup monk fruit granules 
1/2 tsp salt 
2-4 oz melted (or unmelted) chocolate chips (optional) 
Stir all ingredients together in a bowl. Form the dough into any shape (be as creative as you want!). Put in a lined or buttered 8×8 pan. Refrigerate for 1hr. Cut into bars. Enjoy the fruits of your labor!
We hope you enjoy these protein packed recipe ideas! You also can add PURECLEAN PROTEIN™ right into any kind of baking mix for extra volume, thickness, and chewiness! Protein packed bread or chocolate cake with protein caramel anyone?