SPARQ™ Clearance Sale: Buy One, Get One 50%.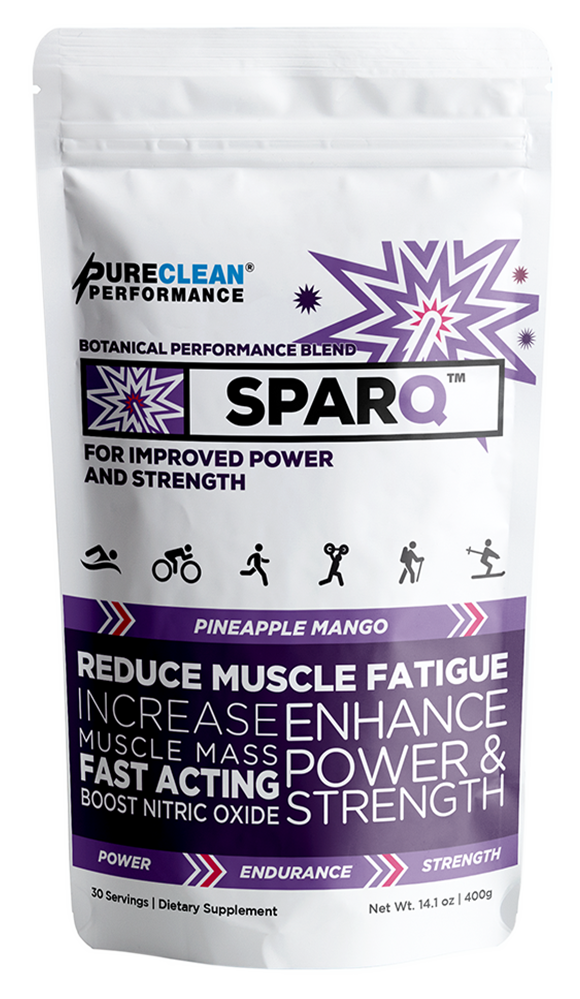 The power of SPARQ™ continues to impress all who use it.
SPARQ™ is literally five products in one!
Our BioBeets™ (5x times nitrate concentrated extract) for enhancing delivery of oxygen to the cells.
PeakATP for cellular energy
Creatine for cellular energy
myHMB for muscle recovery
RipFactor for muscle endurance, strength, and mass  
Unfortunately, the taste and texture weren't as much as a winner for everyone.

The good news is that we are about to release a new SPARQ™ blend that improves the formula taste significantly by reducing the fruit powder and using an instant black yerba mate powder instead of yerba mate leaf.

You'll find it to have very little texture and to be less sweet. I have been enjoying the blend either as a quick shot or hot as a Mate Late' with a bit of honey and oat milk.
If you are currently using and don't mind the SPARQ™ flavor then we have 16 bags left that we are offering a Buy One Get One at 50% off. Just add two SPARQ™ to your cart no coupons needed.
This offer will last until we are out of stock.
If you have tried SPARQ™ in the past and would like to try the improved flavor profile or just want to give it a try then use the coupon SQTRY35 for 35% off one bag.
This offer will last until January 31.

Here is recent feedback from users of SPARQ™.

SPARQ™ WORKS! It adds more watts to my efforts when doing intervals and/or hill repeats. The taste takes a little getting used to as it definitely has a bit of a "bite" to it but I'm adding a little stevia to it and that takes the edge off a bit. I'm very pleased with it though. Tom KleinmanI love this stuff. It's one of the more noticeably effective supplements I've tried. Do you think it's beneficial to cycle its use? I also wonder if it's beneficial to stop using it in the offseason.
I wanted to give you some more feedback using Sparq™ and Fundaminos™. During the pandemic, I cleaned up my diet, dropping from 165 lbs to 145 lbs. After three weeks of using Sparq™ pre-workout, I am hitting 5% higher power at the lower body weight! I have also been able to hold my TrainingPeaks calculated threshold heart rate of 175bpm at those higher power numbers at a lower perceived effort.
That and using Fundaminos™ post-workout is stunningly effective in reducing soreness the next day. Although I still have to gulp Sparq™ like medicine!
You said SPARQ™ would be game changing, and you were right! SPARQ™ is perhaps the first drink that I feel actually helps me pre, during, and post run. Since using SPARQ™, I warm up more quickly and with more energy. Then, during my long runs, I am able to easily run through points where I'd normally feel fatigued. Further, I recover much quicker!!!! Additionally, since using SPARQ™, it feels like I am breathing much easier while doing intense speedwork and bodywork. This may sound weird, but I actually look more muscular since consuming SPARQ™. This is your best product yet, Rick! By the way, I am currently training for the Antarctica marathon March 2021.
Honestly I love SPARQ™ in combo with FUNDAMINOS™. I have been using FUNDAMINOS™ for a few years but really like the new stack. I am noticing a decrease in soreness and improved muscle definition. I enjoyed BEET"UMS™ chews last time. Just so you know, I only use PureClean Performance, HealthForce Superfood Green, and Bulletproof products due to purity as I really appreciate clean sources of nutrition.
So we've been really enjoying the combo of all UNBEETABREW, BEETUMS, SPARQ and FUNDAMINOS. We have noticed so far that we are able to push more power with a lower heart rate - exciting results so far!!