Posted by Dr. Rick Cohen on Sep 26th 2019
The Six Key Factors to Choosing a Beet Juice Powder
As readers of this blog, you should understand the power of beets and its ability to both improve your health, stamina and athletic performance.
But how can you choose a beet juice powder that is going to help you achieve these goals? Also, if you already are using beet juice powder, how can you tell if you are really getting what you paid for?
Read on to find out the six key factors you need to know when choosing a beet juice powder. Or to save you some reading, simply no beet juice product compares to the value you receive with PURECLEAN POWDER™ organic beet juice powder.
CHOOSE A BEET JUICE POWDER MADE WITH ORGANIC USA-GROWN BEETS

Fortunately, beets are not one of the Dirty Dozen toxic fruits and vegetables. However, since you will be consuming large amounts of beets in a concentrated juice powder, it is wise to minimize chemical exposure by consuming organic whenever possible.
CHOOSE A BEET JUICE POWDER THAT A DARK-RED AND CRYSTALlINE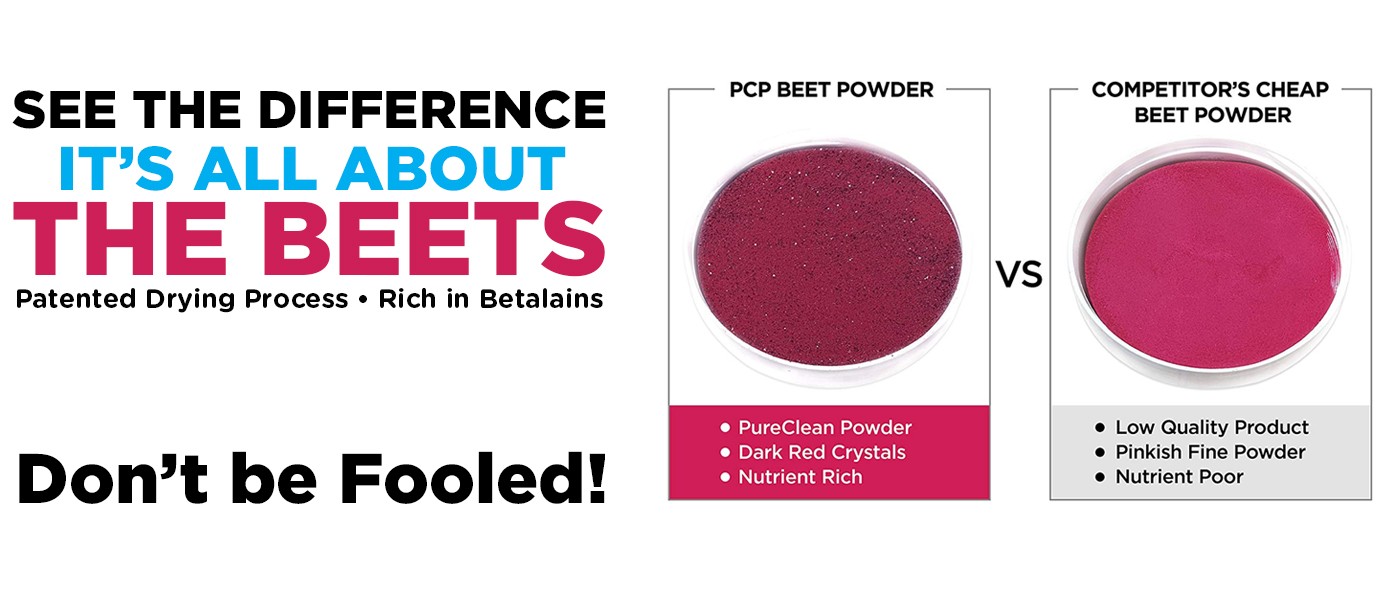 A dark-red, crystal-like powder indicates that a beet juice powder is rich in betalains. Betalains are natural plant antioxidants which are important if you want to reduce inflammation and oxidative stress therefore increase overall health and recovery. In fact, next to nitrate content, the betalain content is the second most important nutritional factor in beets.
You will only see a dark red color when premium beets are first juiced and then dried using a proprietary, low-temperature drying process. Most beet powders on the market are a light red color and/or a very fine in texture indicating that they have been dried using a less costly process (freeze or spray-dried) that does not preserve the important betalain antioxidants. Beware of very low cost beet powders, as the majority of these are not beet "juice" powders but instead are just ground up beetroot that has not been juiced!
CHOOSE A BEET JUICE POWDER WITH NO ADDED FLAVORS OR SWEETENERS
Aim for a beet juice product that contains 100% organic beet juice powder to insure you can see and taste the quality of the beet juice powder. As I shared above a high-quality, cold-temperature processed beet juice powder will have a dark red crystalline powder. In addition, it will have a clean, mildly sweet flavor that allows you to drink it alone in a few ounces of water, have it in a blender drink or use it in baked goods. Note, for those non-beet lovers, should opt for 100% beet juice powder so they can flavor the beet juice powder to taste preferences. These include adding some tart juice or a bit of stevia sweetener.
While most companies add flavors and sweeteners to improve the appeal of their product,the flavoring process also serve to cover up inferior quality and inexpensively processed beet juice powder. Flavor and other ingredient additives also reduce the quantity of the more costly beet juice powder which comes in each container therefore reducing the total value you receive with your purchase.
CHOOSE A BEET JUICE PRODUCT BASED ON THE COST PER 10 GRAMS OF BEETS
Don't fall for the marketing hype of the total number of beets per jar. Also ignore how many beet servings or even the total product weight per container. These are relatively meaningless factors since most beet juice powders have the same concentration and contain other non-beet ingredients such as additives, sweeteners or flavors that increase product weight.
Instead only care about the total amount of beet juice powder per jar.
Because once you determine the actual amount of beets per jar, you can then determine that real cost that you are paying
BEET ELITE contains 200 grams of powder but only contains approximately 180 grams of beet juice powder, as the rest is flavoring.
BEET ELITE costs $35 per jar with a real cost of $1.87 per 10 grams of beets. ($35/180 grams of beet juice powder)
On the other hand, PURECLEAN POWDER™ contains 300 grams of powder per jar, 100% of this is beet juice powder. So while a jar of BEET ELITE costs a few dollars less than PURECLEAN POWDER™, it actually contains only 60% the amount of beets as PURECLEAN POWDER™!
PURECLEAN POWDER™ costs $39 per jar with a real cost of $1.30 per 10 grams of beets. ($39/300 grams of beet juice powder)
CHOOSE A BEET JUICE POWDER BASED ON THE COST PER 100MG OF NITRATES
Nitrates are the most important nutrient beets. It is the factor that empowers beet juice powder the power to enhance nitric oxide (NO). But research shows that we need to consume 500mg of dietary nitrates daily (especially those over the age of 40) to improve health and performance. And since most people consume from 100- 200mg of dietary nitrates from food, the additional 300-400 mg needs to be obtained from high-nitrate content beet juice powder.
In order to effectively consume 300-400mg of nitrates daily, it is crucial that you choose a beet juice product that contains at least 2.5% nitrates (providing 250mg for each 10 gram serving of beets.) However, most commercial beet juice powders contain 1.5% nitrates or lower. Therefore, you would have to consume more than 20 grams of beet juice powder (2 to 4 servings) to get the desired effects.
The challenge is a beet juice powder's nitrate content information is never available on labels or marketing materials. Therefore,you will have to request a CoA (certificate of analysis) that includes nitrate content from the company. Don't be surprised if companies either do not have this info or just are not willing to provide it.
FYI. The current lot of PURECLEAN POWDER™ contains >3.5% nitrates (350mg per 10 grams of beets.) This is one of, if not, the highest on the market as we source a special variety of beets only available in limited quantities.
The most meaningful way to determine beet juice value.
For further consideration, while the cost per 10 grams of beet juice powder (see #4) is a quick way to determine product value, it is best to determine the cost per 100mg of nitrates. This is because the nitrates (which can be much higher in a premium product) is the most important marker of quality and effectiveness to support nitric oxide.
The goal is to find a beet juice powder where you are paying less than $0.50 cents per 100mg of nitrates.
Here are a few examples.

PURECLEAN POWDER™'s cost per 100mg of nitrates is 37 cents. 10,500mg of nitrates (300g of beets x 35mg nitrates per gram) in a $39 per jar
BEET ELITE's cost per 100mg of nitrates is 92 cents. 3,780 of nitrates (180g of beets x 21mg of nitrates per gram) / $35 per jar
GENERIC AMAZON LOW COST BRAND's cost per 100mg of nitrates is 764 cents. 4,540 of nitrates (454g of beets x 10mg of nitrates per gram) / $29 per jar
IMPT: While the nitrate cost may be lower with an inexpensive brand when compared to BEET ELITE, to obtain the needed 250mg of nitrates you would have to consume 30 plus grams or 3-6 plus servings per day! This would not be friendly to your gastrointestinal tract and completely unsustainable.
CHOOSE A BEET JUICE PRODUCT FROM A COMPANY WITH EXPERIENCE
Many of the beet juice powers sold, especially on Amazon, are private labeled or off-the-shelf blends created by contract manufacturers for brands looking to jump on the beet juice bandwagon. Therefore, look for a brand (not just a marketing front) that not only formulates and sources ingredients but has experience working directly with people interested in optimizing both their health and performance.
TAKE THE PURECLEAN POWDER CHALLENGE.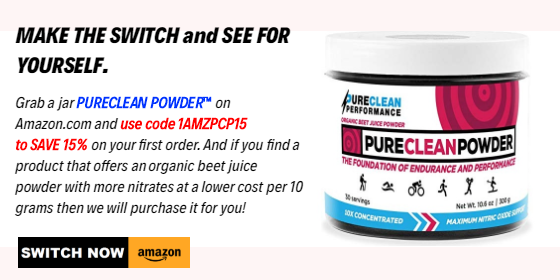 HOWEVER, IF 100% ORGANIC PURE BEET JUICE ISN'T YOUR FAVORITE OR YOU JUST WANT A CHANGE OF PACE, GRAB SOME OF OUR OTHER BEET-BASED PRODUCTS
We offer a full line of physician-formulated, beet-infused formulas that have been designed for quality, effectiveness, taste, and convenience.
Click on a product below and use the coupon 1PCP20 for 20% at www.purecleanperformance.com
Have questions?
Please feel free to reach out to me directly at drrick@purecleanperformance.com with any comments or questions or for our PureClean Performance product use pdf guide